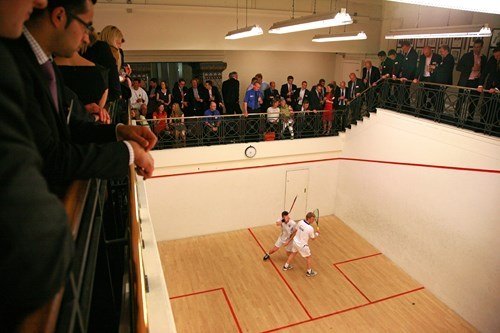 In its 38 years, the Newton Perkins' Squash Tournament has rarely witnessed two more eagerly anticipated matches than at the 2013 Finals on 1st May. British Land squared up against CBRE in the Plate Tournament whilst serial champions Cushman & Wakefield were defending their 2012 Trophy versus GVA.
London's RAC Club in Pall Mall was host for the Finals Evening. First up was BL's Tony Braine who out-witted the agent's third string, Tom Webb to capture a 3-1 win. BL Captain, Ben Grose showed all his deceptive control to out-score a determined James Horrocks of CBRE. Theo Holmes of CBRE played to the highest level in defeating BL's new entrant, Will Hobman, but it was not enough to stop the BL team winning the Plate Trophy by a 2 v 1 margin.
The events with the Main Trophy were unfolding on the adjacent court. Cushman's Ollie Slack had a bruising humdinger with GVA's no. 3, James Maskey. Maskey levelled to 1-1 before Slack's competitive juices kicked in to earn the win. Marcus Hayes, Cushman's previously unbeaten no. 2, found the remorseless energy of GVA national league player James Pickles irresistible as the GVA man fought to level the match score at 1 v 1.
With spectators taking every possible vantage point, 4 months of competition between 29 teams therefore came down to the very last match. GVA's Adam Wildig, another national league player met Cushman no. 1 Matt Sampson in an absorbing, endlessly creative game. With both players showing staggering court coverage, Wildig dug in to triumph 3-1. His success led GVA back to the top step of the podium as 2 v 1 winners of the Tournament for the first time since 2002.
Trophies were presented in the Committee Room with Guest of Honour "David Brent" of "The Office" fame flying in from Slough.
For further details of the Finals and 2014 Tournament, please visit www.newtonperkins.com