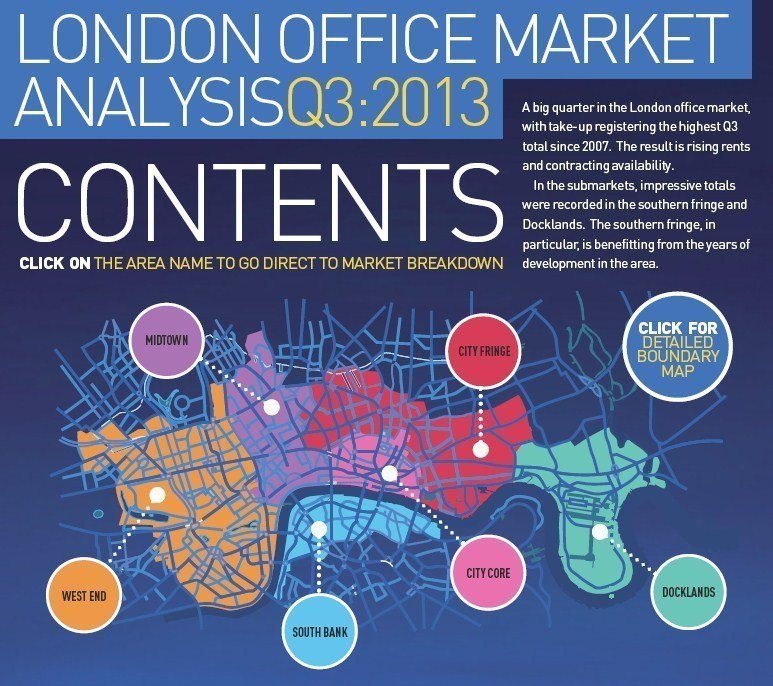 The Q3 2013 EGi "LOMA" (London Office Market Analysis) report has just been published
The report highlights a more buoyant office leasing market across London and in particular the City. Within 3.5 m sq ft of summer lettings across central London in Q3 the City was the best performer with a whopping 1 million sq ft of lettings. Whilst it is too early for landlords to be sure the recovery is undoubted, if the existing confidence remains and transactional levels continue into Q4, 2013 could be the best performing year since the 2008 crash.
The highest reported headline rent achieved was £65 per sq ft which Markel agreed for an additional 25,000 sq ft they took at 20 Fenchurch St – the same building where Newton Perkins has starred; acquiring 130,000 sq ft for Kiln and Liberty. The next highest rent reported was £57.50 per sq ft – at 103 Cannon St (click here for details) where Newton Perkins advised the landlord, Walbrook Land and Palmer Capital. Not only were Newton Perkins agreeing top rents but also we were scaling the Agency league tables – coming in 14th position of all central London agents with a total of102,744 sq ft of disposals and 20 deals transacted.
With the local and wider economies both showing renewed resilience, central London office occupiers appear to be coming out of the woodwork with businesses reporting growth plans for the first time since 2008.
To discuss the report please contact Harry Trotter or David Alcock.