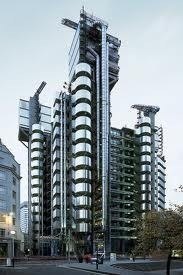 Lloyds of London opened its hallowed Lime Street portals to give rare access to the City of London agents and Newton Perkins last night. Completed in 1986, Richard Rogers' design (variously nicknamed the 'Oil Rig', 'Inside-Out Building' and 'Coffee Percolator') was revealed to have retained a remarkably contemporary appearance and remains an enduring tribute to the integrity of the original design.
57 managing agents and 87 syndicates are housed within the building – it is estimated that Lloyds contributes £25 billion per annum to the UK economy and that 8-10% of the world's underwriting is concluded in this one building, by the 6,000 staff on a typical business day.
Other highlights included the Robert Adam designed Committee Room, an 18th Century monument to Lloyds', embedded seamlessly within the 1986 building. Lloyds' history is further emphasised on the ground trading floor which envelopes the Lutine Bell, as well as the quill written 'Loss Book', a centuries old tradition of documenting ships lost throughout the world's shipping lanes.
In July 2013, the building was purchased by Ping An, one of China's largest insurance companies, for £260 million. The deal constituted one of the largest investment transactions of the year.