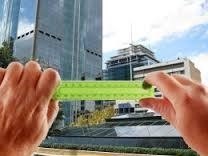 With the aim of standardising the treatment and transparency of office floor areas worldwide, the RICS has introduced a new Code for the measurement of office property.
But what effects will this have on Newton Perkins' clients?
The background
From the start of January (2016) "IPMS" ("Professional statement: office measurement, being Part 1 of RICS property measurement 1st edition May 2015" ) applies to bring UK practice into line with other countries including the US, India and Far East. The new Code replaces the Code of Measuring Practice (6th edition) 2007.
IPMS will only apply initially to offices (but is likely to be expanded in the future to cover retail, residential, industrial and other property types).
The changes
IMPS(3) replaces the long established "NIA" (net internal office area). IPMS(3) floor areas and includes columns, balconies and terraces. The Code proposes use of the term "usable office area" instead of "net internal area".
Office buildings with substantially glazed fenestrations will be affected where more than 50% of the height of the wall is glazed ("dominant widow reveals") . Under IPMS (3) the floor area of dominant window reveals is to be included (rather than being excluded under NIA).
IMPS(2) replaces Gross Internal Area and will report on the component areas of common parts (rather than just as one area as under GIA).
IMPS(1) replaces Gross External Area and will include balconies and roof terraces.
The Code is mandatory for RICS member firms
Impacts
It is expected both IPMS and NIA/OUA areas will be quoted (in imperial and metric!). IMPS areas will in almost all cases be larger areas than NIA/OUAs but unusable areas will be quoted separately under IPMS.
The new Code is expected to create additional work for specialist measuring companies such as Pure Real Estate Services (www.pureres.co.uk)
For the foreseeable future NIAs/ Usable Office Areas will continue to be used for rental and capital value purposes and calculations.
It is currently unclear whether office properties need to be re-measured for the 2017 Rating Revaluation?.
For more discussion on the impact of IPMS please contact Jamie Nurcombe or David Alcock