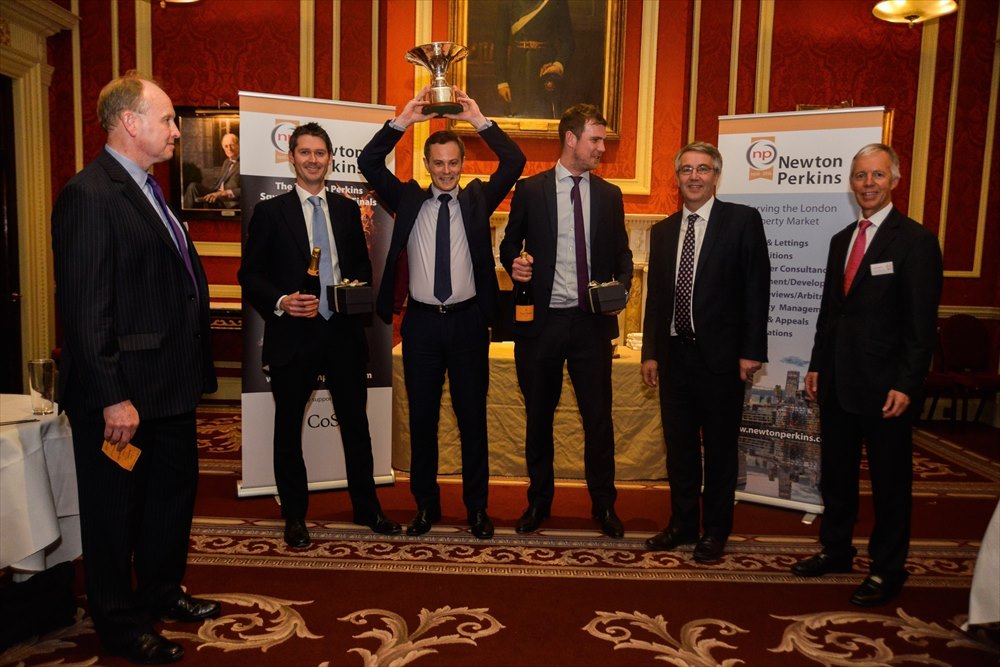 The 2016 Tournament reached a thrilling conclusion at the RAC in front of an enthused gallery of supporters and spectators.
Playing for the main "Trophy" , 2015 winners, JLL were pitched against last year's "Plate" champions Bilfinger GVA . JLL raced into an early lead thanks to Matt Connor defeating Alex Stevens. The squash court seemed all too small for No. 2 strings JLL's Oli Marcroft and GVA's Ollie Slack but in a compelling contest the JLL man won through to take the match and title. GVA No.1 James Pickles restored respectability to the overall match in beating Paul Sweeney 3-1 but the overall match score of 2 v1 saw JLL retain the trophy.
The Plate final was playing our simultaneously on the adjacent court . CBRE no.3 string Ed Chrimes dug deep in a seesaw against Ernst & Young Real Estate's James Baudains before the EY man squeaked through 3-2.
EY (very commendable first time finalists) No.2 Steve Horncastle found the going tough against CBRE's George Harper who levelled the match at 1-1. With the title hanging on the result, EY's Roshan Chhatralia took the early initiative against CBRE's Theo Holmes. In a ding dong the two swapped the lead in the match of the night which ended in a thrilling and exhausting 5th set won by Holmes by the narrowest of margins. Plate Honours to CBRE 2v1.
Guest of Honour, Alastair Stewart of ETC Venues presented the prizes and Trophies in the Committee room of the RAC. To read a more detailed review of the Tournament by Paul Norman, Editor of the CoStar media sponsor of the Tournament please click here.
Or to find out more about the Tournament please contact David Alcock or Tony Wollaston.