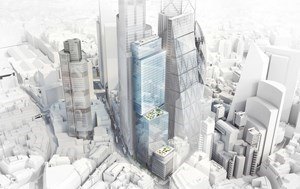 Developers Mitsui Estate London and Stanhope have recently been granted planning consent for their proposed new tower on the site of 6-8 Bishopsgate EC2 and 150 Leadenhall Street, EC3 according to a report from Costar.
The City of London has given permission for the revised plans to construct a 570,000 sq ft tower; which will consist of a 50 storey office on the corner site. Retail units on the ground floor and a viewing gallery at the top also form part of the project.
The plans were originally submitted in May but required a number of revisions to conform to planning authorities' recommendations due to the impact of a number of other tower developments in the area. The revised plans were approved with 6 objections.
Yuichiro Shioda, managing director and CEO of Mitsubishi Estate London, said: "We welcome this decision from the City of London, which recognises the benefits to all stakeholders of the revised proposals. As part of the eastern cluster, this new tower will provide the modern business space required to keep the City of London at the forefront of international commerce."
David Camp, chief executive of Stanhope, said: "We are delighted to be continuing our partnership with Mitsubishi Estates on this striking landmark building for London that will further enhance its global appeal and its ability to attract high quality international businesses to locate in the City."