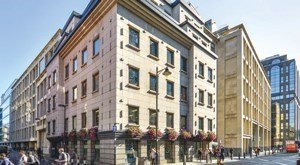 Blend Property UK and Westminster Real Estate have sold 35 Chiswell Street, EC2, a central London office building that provides a good investment opportunity.
A private investor has agreed to pay £14.85 million. According to a recent report, this reflects a capital value of £859 per sq ft and a net initial yield of 4.13%.
The building is a conspicuously situated corner building and provides 17,285 sq ft of City of London office space over 8 floors, with healthcare and gym accommodation also forming part of the building.
8 tenants occupy the space with an average rent of £38.19 per sq ft.