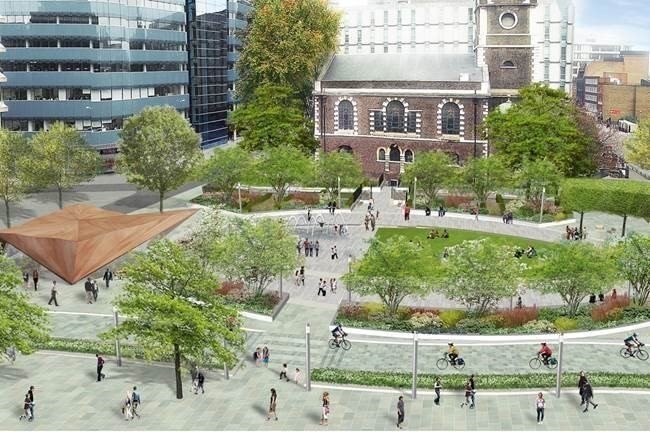 The Aldgate Garden
The Aldgate Garden project's completion date is in our sights after several years of major construction in the area. The spectacular garden has begun to shape Portsoken into becoming home to one of the largest open spaces in the Square Mile.
The City of London Corporation made the decision to improve the new square and allow it to significantly improve the public realm around Aldgate. The previously traffic heavy area, along with the gyratory has been replaced by a community-led open garden and future social hub. The Portsoken Pavilion in the middle of the garden, with its UFO like design is to host a new community café run by Kahaila, a not-for-profit charity fighting for social justice for marginalised groups of women whose profits go back to charity.
Credit (Suisse) where it's due
Investment bank Credit Suisse looks set to continue its recent spate of purchases by making a move for Procession House, according to a recent report.
Procession House, 55 Ludgate Hill, EC4 is a City of London office building which has been highly-sought after following a bidding process that proved very competitive. The building consists of 105,000 sq ft of office and retail space. The office space in the building is let to a single tenant, Goldman Sachs, until 2024.
LGIM Real Assets, the current owner of the building, has according to the report accepted an offer from Credit Suisse Asset Management Global Real Estate to purchase the office building for just under £70 million.
The building has only been on the market since February 2018 and received a number of bids which were above the £67.5 million asking price, which reflected a capital value of £641 per sq ft and a net initial yield of 6.15%.
The purchase underpins Credit Suisse's commitment to London following earlier purchases including the Monument Building, EC3 in February 2018 for £118 million and agreement to buy 11 Pilgrim Street, EC4 at the end of 2017.