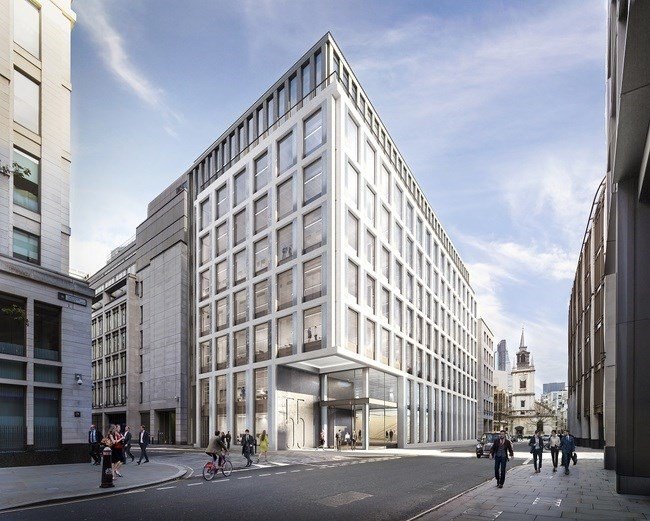 Beltane Asset Management and Angelo Gordon have confirmed a letting of 122,000 sq ft to Investec on 55 Gresham Street, EC2 CoStar reveals. The 121,600 sq ft Grade A development has been leased in its entirety.
Angelo Gordon and Beltane acquired the site in 2014; which then re-geared the head lease with the City of London Corporation and proposed a major redevelopment plan which was designed by Fletcher Priest Architects.
The redevelopment of the building will consist of 122,000 sq ft of prime office space across 11 floors which will be located in the centre of the City of London's financial district.
Investec will be taking a 15-year lease with rent is believed to be in the mid-£60s per sq ft.
Following completion in Q3 2018, Investec Asset Management will relocate from its current headquarters at Woolgate Exchange and the re-location is indicative of the firm's commitment to serving an expanding international client base and long-term orientation.
Investec Asset Management's commitment to 55 Gresham Street is representative of the general trend identified across the City of London according to the report which states that over a third of all space currently under construction is already pre-let or committed.
Other occupiers such as Brewin Dolphin, National Australia Bank, Navigant and UniCredit are also looking for space in the Square Mile.
A partner at Beltane, Duncan Roe stated: "The fact that Investec Asset Management, a distinctive global organisation, has decided to relocate to 55 Gresham Street prior to its completion, is an endorsement of the quality of the development. The deal also represents the area's continued pull for financial occupiers who remain committed to the City of London"
Mike Diana of Angelo Gordon, said: "When we purchased this asset we thought it would suit a headquarter occupier and are pleased to see Investec Asset Management move their business into 55 Gresham Street. London has performed very well for us as an investment destination and we look forward to being active here for the long-term."