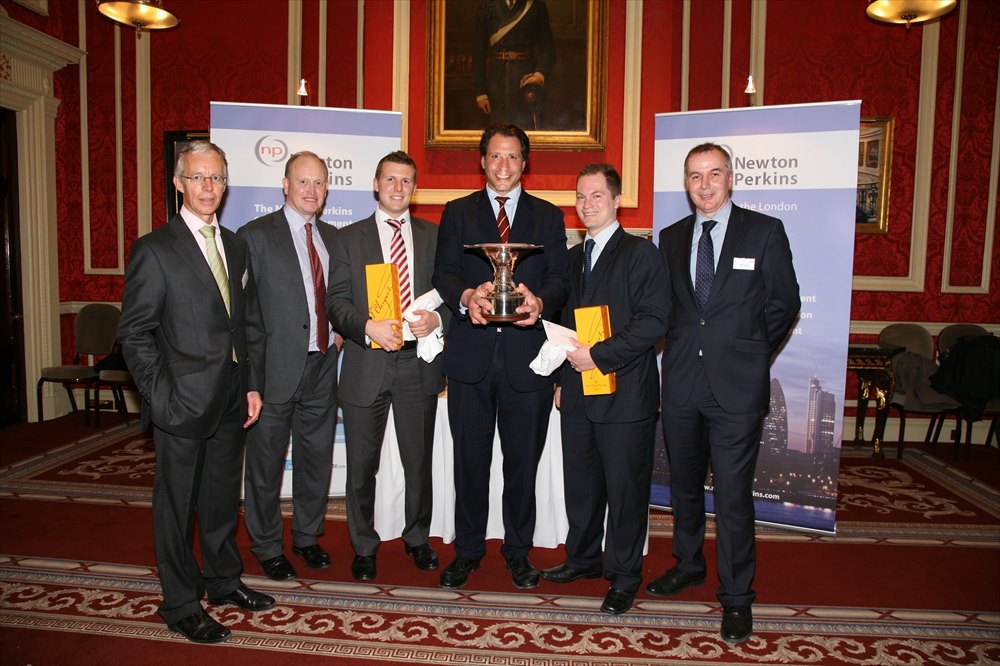 The Finals Evening of the Newton Perkins' Squash Tournament 2012, was played out at the RAC Club on 2nd May.
Competing for the Plate Trophy were two first time finalists, Gerald Eve and solicitors Bird & Bird. Eve's no.3 lady player Kym Shaen-Carter struggled with the pace of Bird's no.3 Ed Rainsford with the solicitors taking first blood.
No.2's, Eve's James Macfarlane and Bird's Andrew Brockett looked evenly matched. Macfarlane sprinted into an early 8-5 lead only to be pegged back by Brockett who then moved peerlessly to win the match. The best game was reserved for the no.1 string between County players, Simon Johns and Joss Hargrave. Hargrave played an immaculate line and length not only to win the match but secure the Plate Trophy for Bird & Bird.
In the main Trophy, serial finalist, Ollie Slack of Cushman & Wakefield looked in deep trouble against newbie JLL no.3 Oli Marcroft. However, losing the first game (in Slack's own words) released "the inner gorilla" and a comeback to crush the JLL uprising. Top ranked London club player Matt Sampson playing contrary to doctor's advice, revealed fine form to despatch Adam Draper at no.2 string before leftie, Marcus Hayes reprised his classy victory of 2011 against JLL's Paul Sweeney to secure the retention of the Trophy Tournament for Cushman.
A large band of spectators and players retired to the RAC's Committee Room where Guest of Honour, Martin Jepson of Brookfield regaled the company before presenting the Trophies and prizes . For more information and details of the 2012 finals and 2013 Tournament, please visit www.newtonperkins.com.