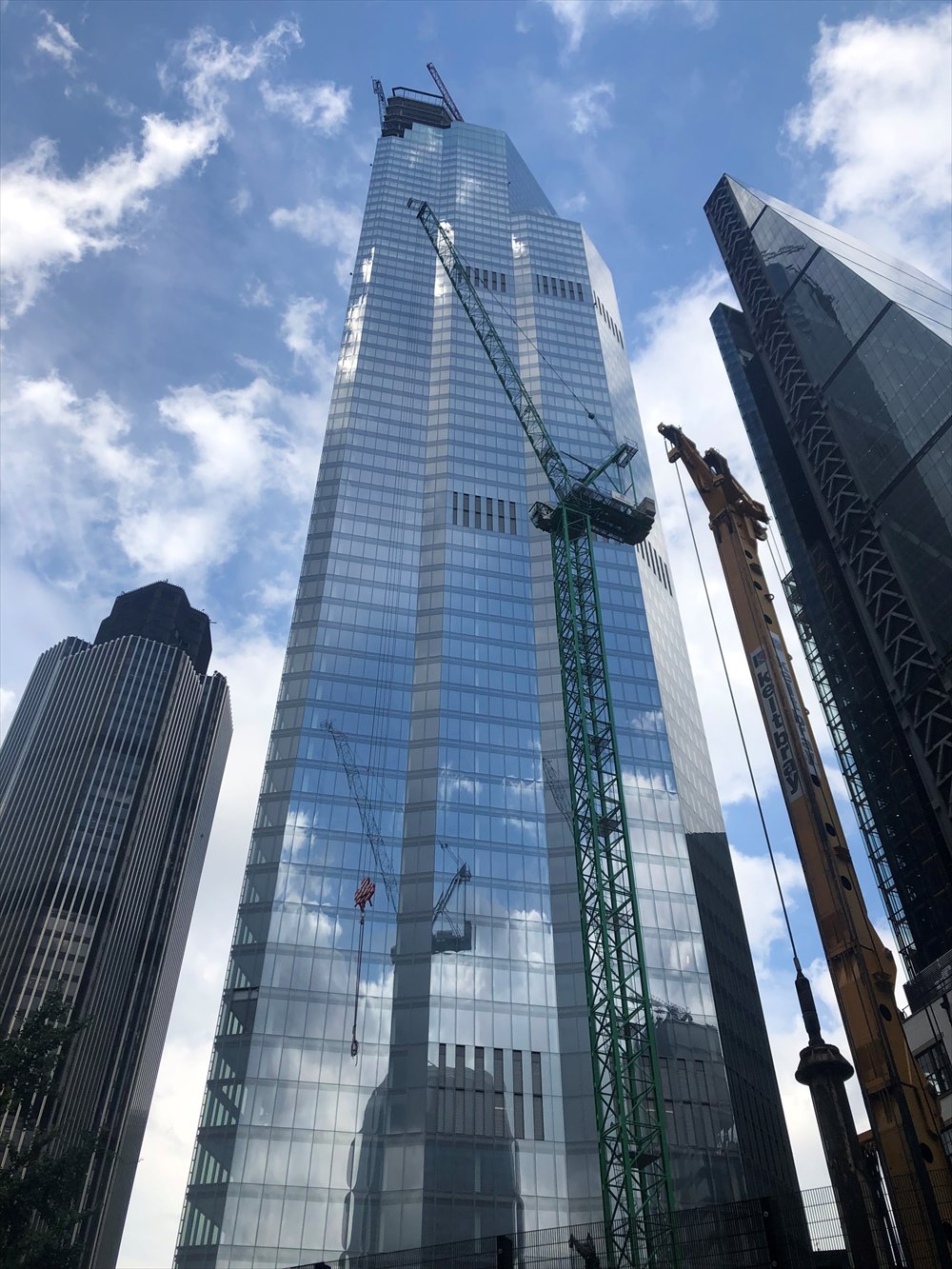 22 Bishopsgate Update
It won't quite have the title of the tallest building in London….but it will certainly make its mark as the largest commercial office development in the City Core!
The construction of 22 Bishopsgate, EC2 is nearing completion. The 62-storey tower will ultimately house around 13,000 workers in well over a million sq ft of office space. The building will feature cutting edge technology including facial recognition security access and lifts travelling at 8 metres per second with Formula One aerodynamics! The technology within the building is expected to be unrivalled by any other grade A development currently seen in the UK. It is expected to set a precedent for what can be expected in future developments and has, as a result, been labelled as 'the model for a new generation of smart building'.
Owners, Axa Investment Managers, have opted not to target one or two larger parties with HQ requirements and instead focus on a high number of occupiers to create a village atmosphere. All tenants will have access to a gym, extravagant food hall, spa and even a climbing wall!
22 Bishopsgate is the most high profile development in London at present and its ability to attract tenants will be a useful barometer against which to asses the performance of the City's office market in general, in the face of political and economic uncertainty. To date approximately 20% of the building is let with a further 25% under offer – reflecting a very positive start. Rents are understood to be in the range of £70-£80 per sq ft, per annum.
City of London to launch a public consultation on three historic food markets
The City of London is opening a consultation on the potential relocation of three of its historic food markets, with the preferred destination currently understood to be Dagenham Dock.
The overriding driver behind the proposed moves is the opportunity to significantly reduce traffic congestion and utlimately improve air quality within the City of London.
Catherine McGuiness, Corporation policy chair said: "Billingsgate, New Spitalfields and Smithfield sit at the heart of London's food economy, having served our citizens for centuries.
"In order to secure their continued success, our preferred site for consolidating the City Corporation's wholesale markets would offer more modern facilities and space for traders to grow so they can meet changing demands.
Following the initial consultation, the Corporation is expected to bring forward a bill in November 2020 which would allow it to relocate the markets.
Furthermore, a new food market is set to open in The City of London's tallest skyscraper, 22 Bishopsgate.
Simple to be known as 'The Market' with seating for 450 people will open up next year and will contain a restaurant, a wine bar and a terrace.
'Rhubarb' – a restaurant company, who already run dining spots in the Sky Garden and Centre Point will be in charge of this project.
Part of Finsbury Circus to be pedestrianised!
For the past few years Finsbury Circus has been predominantly used as the site for one of Crossrail's many shafts. However, with completion of the project drawing nearer, the iconic garden will soon be reinstated to kits former glory.
The spur linking Moorgate to the park was originally intended to be restored to a road once the building works were finished. However, The City Corporation is now considering permanently pedestrianising the western arm of the Circus (which has been closed to vehicle access for the past 6 years).
The hope is that this would make the entrance to park far more appealing to the local occupiers and visitors.
City of London offices sold to London & Oxford
Following a successful leasing campaign, led by Newton Perkins, 81-82 Gracechurch Street, EC3 has now been sold on behalf of Greater Manchester Pension Fund, for £15.25m.
The sale reflects a net initial yield of 5.51% and a capital value of £785 per sq ft.
The Grade II building comprising 19,418 sq ft will contain retail and ancillary accommodation and is fully let to four retail and four office tenants. Tenants include EE, Robert Dyas and First Title Insurance which generates passing rent of £958,073 per annum.