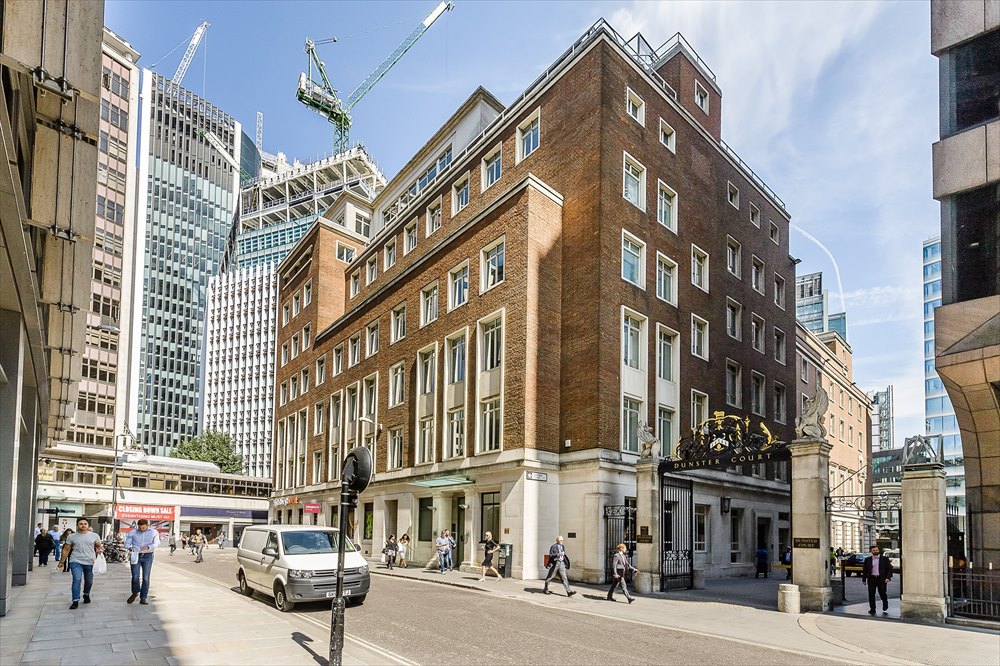 "Plug & Play" at Minster House, EC3
We are delighted to announce that we are now marketing the Part 5th Floor (4,014 sq ft) at Minster House, 42 Mincing Lane, EC3.
The accommodation provides a high quality fit out comprising a mixture of meeting rooms, private offices and a kitchen break out area.
For any queries please contact Jamie Nurcombe – 0207 456 0712 or Ali Porter – 0207 456 0707.
Take-up of London City offices reaches a two year high in July.
According to Savills latest City Office Market Watch, take-up for July in the City of London reached 1.02m sq ft across 29 deals, more than doubling the 420,000 sq ft completed in June and recording the strongest one-month take-up in nearly two years.
Over half of the take-up in July (591,000 sq ft/58%) was for pre-let deals across five City operations. The largest pre-let deal so far in July and the year so far, has seen BT Group pre-let the entire One Braham Street, E1 equating to a 15-year lease of 328,011 sq ft.
So far this year, the Insurance & Financial Services industry accounted for 21% of the take-up. The Serviced Office industry, however, continues to grow throughout London, also accounting for 21 percent of this year's take-up. July saw three WeWork deals alone of 84,026 sq ft, and IWG pre-let all 68 King William Street, EC4 of 78,000 sq ft, the third biggest deal this year for a service supplier.
Currently, 5.8m sq ft of new space is expected to be completed next year, 24 percent of which is pre-let, compared with current 10.5m sq ft requirements. Supply will stay restricted beyond next year, with a speculative space of only 1.5m sq ft planned for completion in 2021 and 2.3m sq ft in 2022.
Total City supply stood at 6.4 million sq ft, equivalent to a vacancy rate of 5 percent, down 30 basis points from last year, resulting in average grade A rents rising to £64.99 per sq ft by 5.2%.
City's call for change
The Alternative Giving campaign is up and running in a bid to support the square mile's homeless population.
The City of London Corporation is launching an alternative campaign to help the homeless and rough sleeper population of the City by donating money via four new contactless card points.
Londoners will be able to donate £3 a time to homelessness charity Beam, by tapping their debit and credit cards on contactless devices at the City of London Information Centre at St
Paul's Churchyard, Barbican Library, Tower Bridge Engine Room, and the Guildhall West Wing reception window.
Online donations can also help the campaign, and city firms can sign up by visiting cityoflondon.gov.uk/tapforchange to put devices in their premises.
The campaign will run for three months and more contact points could be rolled out across other locations in the City if it is successful.
Marianne Fredericks, chairman of City of London Corporation homelessness and rough sleeping sub-committee said: "In a culture where people are increasingly using their debit and credit cards and carrying very little cash, this is an effective and efficient way to help the most vulnerable in our society.
"The funds raised through these devices will go towards the essential, often lifesaving work being carried out by Beam."
"Working with our partners we are supporting rough sleepers to make real life-changes, leading to training, jobs and long-term accommodation and helping them get off the streets for good.
"I hope City business will embrace this campaign and help provide even more locations for the alternative giving tap machines."
Lord Mayor calls on firms to paint City red.
City employees are being invited to celebrate the community and voluntary projects of their companies this year by wearing red for the day as part of City Giving Day 2019 and taking part in activities and events across the Square Mile.
The annual event, this year on Tuesday 24 September, celebrates the value of the City to society and shows how businesses can make a difference. It champions activities – whether CSR, philanthropy, or volunteering initiatives – that companies undertake as part of their commitment to supporting charity, society, the community, and the environment in which they work.
The campaign is an opportunity for employers to speak to staff, recognise achievement and plan even better future community participation, whether in the form of mentoring, fundraising or essential skills volunteering.
The City has a reputation for being very corporate and straight laced, but this shows a side to the businesses and firms that is more community focused and concentrates on bringing about real impact.
It's part of the multi-year strategy 'A Better City for All'. Focused on four key pillars, the strategy aims to create a City that is inclusive, health, skilled and fair, with the objective of helping one million people thrive.
In 2018, 313 organisations came together to recognise all this remarkable work. By joining in they inspired up to 5,000 new volunteers to offer their time, raised more than £450,000 for good causes, and highlighted some of the exceptional charitable activity that takes place throughout the year.