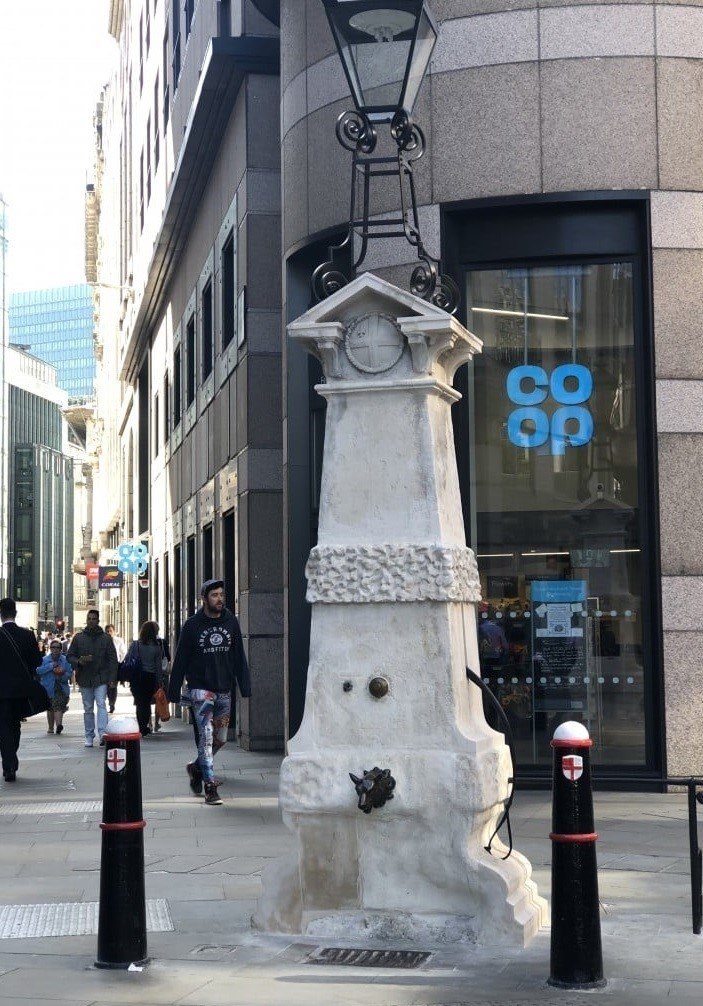 The Aldgate Pump
The Aldgate Pump, standing at the junction of Aldgate, Fenchurch Street and Leadenhall Street, appears harmless enough. But in the 19th century, Londoners died in their hundreds and for grisly causes.
John Stow cites a pump on this site in his 1598 survey of London, but there are earlier mentions of the 13th century Aldgate Well.
The current design is newer, but there has been a pump here in some form since the 16th century.
As well as providing free water to residents, the pump itself has become an important emblem of the city, seen historically as the start of the sprawling, unquantifiable East End.
"My day's business beckoned me to the East End of London, I had turned my face to that part of the compass… and had got past Aldgate Pump." – Charles Dickens, The Uncommercial Traveller (1875).
Previously revered for its purity and freshness, the Aldgate Pump's water started to taste a little bit 'off'.
The pump claimed the lives of hundreds of Londoners in the early 1800s, and after an investigation by The Times, it turned out that the rich calcium taste was from the water – that originated from Hampstead – which was flowing through new cemeteries, gathering bacteria from buried dead bodies along the way.
As a result, the pump was connected to the New River Company's main water supply in 1867, ending the outbreak.
The tragic bit of history quickly became East End folklore also entering the language as a rhyming slang to be annoyed; 'Aldgate Pump' = 'Getting the Hump' that doesn't really seem to do justice to the disaster!
Today, the motor no longer runs and the pump seems a little lost, and is easily missed.
It dates mostly from the 18th century, but with additions from the 19th century (namely the pediment top). Happily, it has also been safeguarded as it was granted the Grade II status from 1950.
40 Leadenhall Street – Start date finally in site…
M&G Prudential has purchased the scheme and has plans to invest £875m in a new prime City of London development site. The plan is therefore to redevelop a new 905,000 sq.ft office building which has been nicknamed "Gotham City".
Keltbray have said that construction will begin early 2020 as they are currently clearing the Leadenhall Triangle site to allow two stepped towers which are 14 and 34 storeys high. The new buildings' carbon emissions will be 30% below current regulations and are expected to achieve a BREEAM Excellent rating.
With a limited number of developments underway in London, it is likely that high-quality office space like this with an emphasis on green credentials and employee well-being will create high demand from occupiers when the scheme is completed in four years.
It is believed that construction is due to commence in March next year. The building is located in the City's insurance district, and is due to be completed around 2023. There have been limited amount of developments in the City of London, with no doubt the impending Brexit decision a key impact.
Tenants race to lock in London office space
Occupiers searching for London's best offices have rarely had to move faster or start earlier planning.
News that Procession House's redevelopment in the City of London has almost completely let months ahead of schedule has shown how quickly companies have to move to snatch new space in the capital.
The slow and flashy availability of office space has become increasingly important for employers in trying to attract talent, tenants are increasingly jostling to make pre-let or agree pre-completion deals, agreeing to take up space in a new office either before it is completed or refurbished, or even before construction has started.
It is estimated that more than a third of take-up in London so far this year has been on a pre-let basis, with half of all stock under construction already taken.
The shift towards pre-completion lettings has been primarily driven by larger occupiers vying for premium space that is reflective of their band and forms a key part in the attraction and retention of the best talent. With the continued erosion of the supply pipeline and low vacancy rates, occupiers are having to begin the search for new space earlier and earlier.