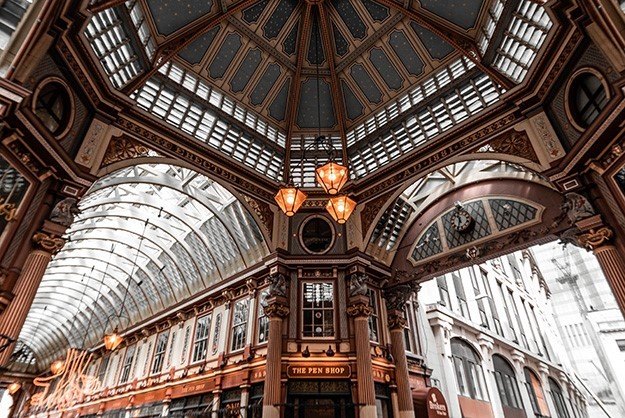 Situated in the heart of the City of London's financial and insurance district, Leadenhall Street stretches a third of a mile, linking Bishopsgate in the west to Aldgate in the east.
Featuring Sir Richard Roger's iconic 'Cheesegrater' building at 122 Leadenhall Street and perching on the border of a vast array of restaurants, bars and shops at Leadenhall Market, this is one of the most sought-after locations in the City. If you have your sights set on Leadenhall Street office spaces, or are trying to decide where to locate your office in the City of London, read on to learn more about this iconic district.
A landmark location, with much on the horizon
The 48-storey Cheesegrater at 122 Leadenhall Street building, the venue for BBC's The Apprentice interviews, is just one of a number of landmark buildings flanking the street. These include the under-construction 38-storey Scalpel at the junction with Lime Street; the Pinnacle on Bishopsgate set to tower some 62 storeys when complete, and 20 Fenchurch Street, otherwise known as The Walkie Talkie. Opposite Number 122 sits the Lloyd's Building, another work of Sir Rogers and the current home of Lloyd's of London.
Over at 40 Leadenhall Street there's an office scheme in the making which has very recently been given the green light courtesy of an £875 million investment. The 900,000 square feet project, nicknamed Gotham City, is set to start in early 2020 and will see the construction of a pair of two stepped towers of 14 and 34 storeys. The notable thing about the development is that its carbon emissions are set to be 30 per cent below current regulations. Property experts are commenting that this will make for high-demand office space, particularly for occupants that make green credentials and staff well-being a priority.
There are many notable organisations with headquarters on Leadenhall Street, including a number of insurance firms and brokers set up in the shadow of Lloyd's of London. Take up office space in Leadenhall Street and you could be neighbouring the likes of Allianz Global Risks; Digital Guardian EMEA; Ace European Group and technology services provider Xchanging.

A well-connected position, ideal for international businesses
Leadenhall Street is a three minute walk from Aldgate Station served by the Circle and Metropolitan lines, and just a few minutes more from Aldgate East on the District and Hammersmith and City lines. On the other side is Bank Station, a few minutes walk as well.
Fenchurch Street and Liverpool Street are a four minute walk, providing links to mainline services into Essex, Suffolk, Norfolk, Hertfordshire and Cambridgeshire together with Central, Circle, Hammersmith and City and Metropolitan Line access. Monument and Tower Hill stations are just 5 minutes away which are on the Circle and District lines, and Tower Gateway is the same distance offering access to the Docklands Light Railway.
London City Airport is under six miles away and Heathrow a little less than 16 miles. Numerous major road networks are also on the doorstep.

A fantastic place for culture and recreation
Dating back to the 14th century, Leadenhall Market is located in what used to be the centre of Roman London. Originally a game, meat and poultry market, it is now a vibrant hub of restaurants, cafés, wine bars and boutique retailers including some of London's finest florists, butchers and cheesemongers. The market also featured in some of the Harry Potter films and is worth a visit if only for its remarkable architecture.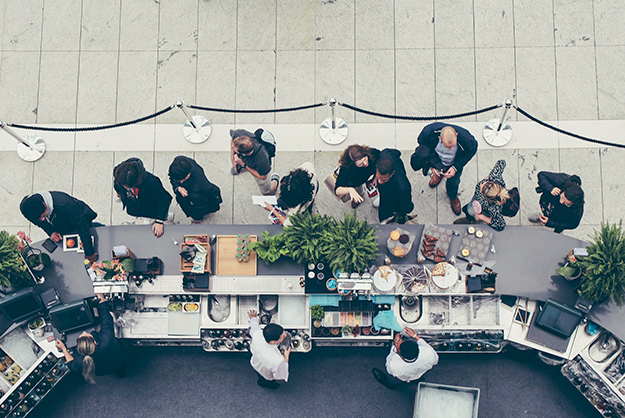 Nearby you have The Monument with its 311 steps leading up to amazing views over the City and all the way to Essex. Also, just minutes away is the spectacular Sky Garden. Free to visit providing you book in advance, the huge enlarged glass dome at 20 Fenchurch Street offers three storeys of beautifully landscaped public gardens complete with observation decks and an open-air terrace.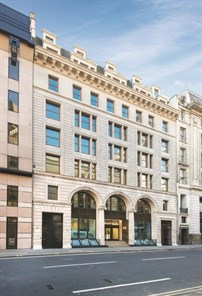 Leadenhall Street Office Spaces – Tailored Expertise from Newton Perkins
Leadenhall Street in London EC3 offers an enticing proposition, particularly for businesses operating in the insurance, finance, banking and professional services sector.
There is a great deal on offer in terms of office space, particularly of the managed and serviced variety offering exceptional standards and top of the range facilities.
If you are considering taking up office space in Leadenhall Street, have a chat with the commercial property specialists at Newton Perkins. Renting, buying or investing, you will find our in-depth expertise and vast local area knowledge of considerable support.
To discuss your Leadenhall Street office space requirements with a member of our helpful team, please get in touch.