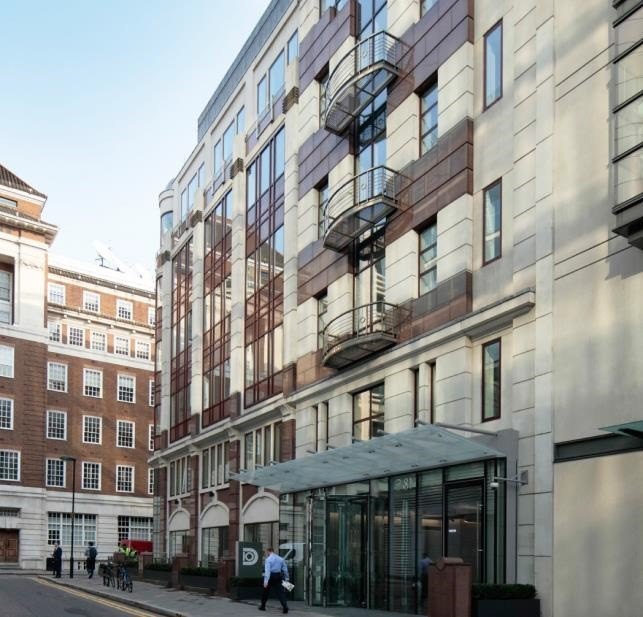 5th Floor, 10 Dominion Street, EC1 – LET
We are delighted to confirm that we have successfully disposed of the 5th Floor office (4,171 sq ft) at 10 Dominion Street to Cory Riverside Energy, on behalf of Docomo Digital.
The space was fully fitted to a very high standard.
Thank you to our joint agent Stuart Simmons at Stoneway Real Estate and also to Andrew Ingram from Anton Page who represented the incoming tenant.
For more information please contact Jack Wells (0207 456 0729) or Jonathan Beilin (0207 456 0727) at Newton Perkins.
Convene set for second foray in London
It is understood that the US-serviced office group Convene is close to securing its second London site.
The company is in talks at EightyFen, EC3 with developer YardNine to take around 67,000 sq ft across the lower ground, ground and first, second and third floors.
Upon completion in June 2020, EightyFen will provide 240,000 sq ft across 14 floors, with 12,500 sq ft of retail space. It will also have six landscaped roof gardens covering 12,359 sq ft.
At the beginning of 2018, former Exemplar directors Maxwell Shand and Campbell MacDougall formed YardNine from Exemplar and have since taken over the EightyFen development.
Convene took space outside the US market for the first time last year, signing at 22 Bishopsgate, EC2, 102,000 sq ft. where it will provide a 51,000 sq ft events and meeting venue as well as flexible office space and is due to open next September.
Founded in 2009, the firm currently has meeting and event spaces in 28 locations across six US cities, including New York, where it has 14 locations, and flexible office space in 10 locations across five US cities.
It also branched into club space and hospitality services, such as fitness and catering classes. Its in-house platform for technology, Elevate, provides landlords with information on how tenants use space.
Slaughters joins slew of lawyers seeking space
Slaughter and May are planning to relocate their London headquarters and join the raft of other law firms in the capital looking at office moves.
It is understood that the magic circle law firm is on the verge of appointing an agent, which has occupied the 260,000 sq ft 1 Bunhill Row, EC1, for more than 20 years.
In 1998 the firm pre-let the entire building at around £40 per sq ft with a lease expiry in June 2026 and a lease break in June 2020.
The news comes as other major law firms continue to circle high profile London office developments. Linklaters is understood to be in talks to lease the majority of 20 Ropemaker Street, EC2, ahead of its lease expiry in nearby Silk Street.
Meanwhile, Baker McKenzie kicked off a search for a new 150,000 sq ft London headquarters this summer. It currently occupies the 160,000 sq ft 100 New Bridge Street, EC4, near City Thameslink train station.
The City of London launched 'benches' competition
The London Festival of Architecture has once again launched a design contest in the City of London for a series of £800 public benches.
For the third year in a row, the City Benches competition will be inviting students, young architects and designers to come up with designs for a series of one-off benches that will improve the public realm and pedestrian experience in the historic district of Cheapside.
The project, funded by the Cheapside Business Alliance, will deliver a series of 'sustainable and creative' benches throughout the City, ideal for up to two adults and in time for the festival's next edition in June 2020. This should encourage people to rest and take note of the landmarks and architecture of the City.
The City of London is the main financial centre of the capital and a host to many of its most iconic and tallest buildings A key focus of recent LFA editions has been the City, which hosts hundreds of pocket parks and art installations.
The latest call for entries comes a year after the LFA hosted a similar contest focussing on Cheapside and two year's after an LFA earlier contest focussing on the City's Eastern Cluster. Delve Architect's 'Whipped Good' the dog inspired bench was the last year's winners.