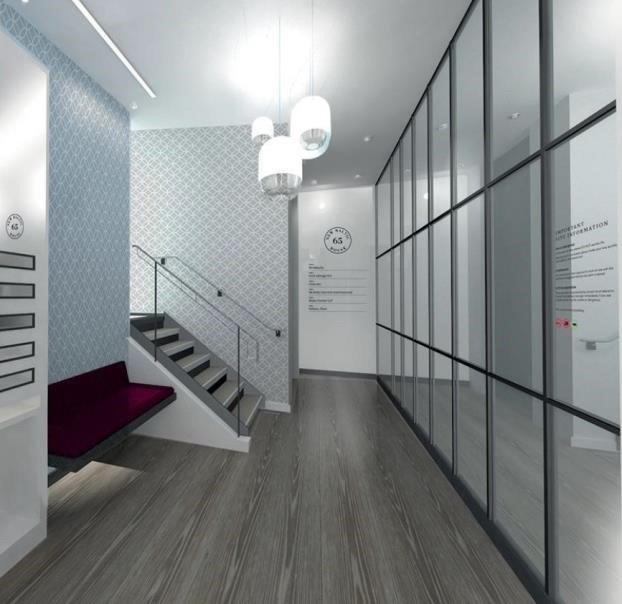 3rd Floor let at 65 Fenchurch Street!
We are delighted to announce that the 3rd floor offices at 65 Fenchurch Street, EC3 have been let to iBASIS!
The building has been comprehensively refurbished to a contemporary specification, featuring exposed services and a remodelled entrance hall.
Two further floors remain available; the 5th floor (1,212 sq ft) & 4th floor (1,256 sq ft) and both contain pre-enabled fibre and new kitchenettes.
For more information please contact Ali Porter (0207 456 707) or Jon Beilin (0207 456 0727)
NEW INSTRUCTION!
Newton Perkins are pleased to bring the first floor (comprising 2,640 sq ft) at 35 Great St Helen's, EC3 to the market. The building overlooks an attractive square between Bishopsgate and St Mary Axe and is well located for the insurance and financial markets.
The offices provide high quality fitted out accommodation, including 2 meeting rooms, a private office, a kitchenette and open plan desking.
For more information please contact Jack Wells (0207 456 0729) or Jon Beilin (0207 456 0727).
Petrol and diesel cars to be banned in Barbican tunnel
The City of London will bring in the UK's first full-time ban on all petrol and diesel cars from early next year, as part of an ambitious plan to eliminate toxic air pollution in the financial centre by 2030.
The restriction will initially only apply to Beech Street, which runs through a tunnel under the Barbican Estate, and would impose a £130 fine on all combustion engine cars, with the exception of some hybrids, each time they entered the area.
Exceptions will apply to emergency vehicles, garbage disposal and logistics vans that are expected to enter into service by the end of March 2020, awaiting final approval from Transport for London.
The 24/7 ban is part of a plan to clean up the city's environment and help adhere to the standards of the World Health Organization's measures for unlawfully high levels of nitrogen dioxide released by diesel vehicles.
The "groundbreaking" ban will provide "substantial health benefits to those living and working in the Barbican district, as well as helping to reduce noise pollution," said Oliver Sells, chairman of the streets and walkways subcommittee of the City of London Corporation.
But the City of London admits that, although air quality in the immediate area of Beech Street is expected to improve, it will shift traffic and pollution to roads nearby.
The trial period will last for up to 18 months after which the City of London Council must determine whether to make the change effective permanently or to enact further steps. It is planning to create two smaller zero pollution areas near the Bank of England by 2022 in Barbican and around Leadenhall Street.
As part of its campaign to reduce air pollution, the City of London Corporation, which governs the area around the capital's financial hub, plans to cut the speed limit to 15mph and make the Square Mile a "zero-emissions zone" by 2030, halving motor traffic by 2044.
Déjà vu as Cisco pulls out of office deal
Tech giant Cisco had walked away from a deal to take 100,000 sq ft at 60 London Wall, EC2, throwing the firm's confidence in the UK into doubt once again.
Cisco, now at 16-18 Finsbury Square, EC2, had agreed terms for the 325,000 sq ft office project, but the agreement's exclusivity period expired without a deal being concluded.
The office is currently undergoing redevelopment by LaSalle Investment Management and Citygrove Securities and is scheduled for completion in June next year.
It is not the first time that Cisco had withdrawn from a major deal. In 2000, at its Green Park scheme in Reading, Berkshire, Prudential prelet more than 1 m sq ft to Cisco. It was the largest prelet outside London at the time, with Cisco planning to transform the park into a European hub.
It originally agreed to take 607,000 sq ft across five buildings with options on the remaining 617,000 sq ft. It eventually occupied just 150,000 sq ft at the site.
It then struggled to sublet the remaining space, which for many years remained vacant. A potential deal with Yell's international directories company fell apart in 2007 when there was a dispute of fit-out issues.
The latest back-pedal from Cisco comes as the company expects a disappointing second quarter. In its current quarter (27 October 2020 – 25 January 2020), it forecasts revenue to fall by 3-5% from a year earlier to between $11.82bn and $12.07bn.
Chaucer inks deal for the Scalpel
Establish operator, Chaucer, is under offer to take 44,000 sq ft at the Scalpel, EC3. The insurance giant, currently based at Plantation Place, 30 Fenchurch Street, EC3, is expected to lease the 6th, 7th and 8th floors at the 35 storey building.
With insurance group Convex taking floors 32-34 and the British Financial Group signing for floors 28 and 29, it is the latest tenant to commit its future to the building with over 80% of the 387,000 sq ft development now let or under offer.