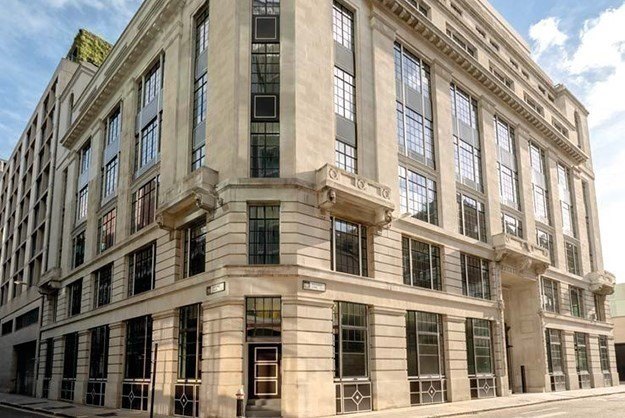 Set in one of the busiest business areas of London, Walsingham House, Seething Lane is an impressive office building in the heart of the Square Mile in the City of London. At the centre of the dynamic EC3 zone, this commercial property sits in the intersection between Seething Lane and Crutched Friars, with Pepys Street closing the other side.

The building's surrounding area is office to some well-known international businesses from industries such as insurance, finance, consultancy, IT and more. Therefore, the property is an ideal choice for any successful business seeking a prime workspace, be it an already established company or a booming new start-up facing the next phase of its growth.
Quick facts: Lloyds' Inside-Out Building and the Scalpel are just 6 mins away, the Gherkin and Leadenhall Building at a 7 mins walk.
The renovation in 2017/2018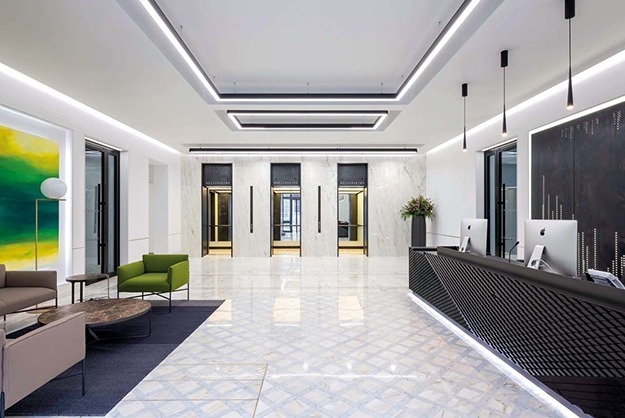 Following a recent renovation, Walsingham House blends both classic and modern features. The elegant and perfectly preserved 1930s Portland stone façade greets guests and passers-by while the newly developed inner space provides top-of-the-line interiors and up to 5,980 m2 of net internal area (NIA).

Granted BREEAM excellent, the property is in the top 10% of UK buildings for overall performance of a new construction project. This achievement is recognition of upgrades such as the new building core and the windows' high-performing glazing, with the latter retaining their original art-deco design. The improvements have brought the building to higher standard of sustainability and energy efficiency class, classifying Walsingham House as grade A office accommodation.

Comprising of 10-stories from the original 8, Walsingham House's floors have been designed with an open-plan office idea in mind. Features such as the new raised metal floors, VRF air conditioning system and reception area, which sports remarkable works of art, are indeed meant to suit modern occupiers looking for a flexible office space.
Getting to Walsingham House, Seething Lane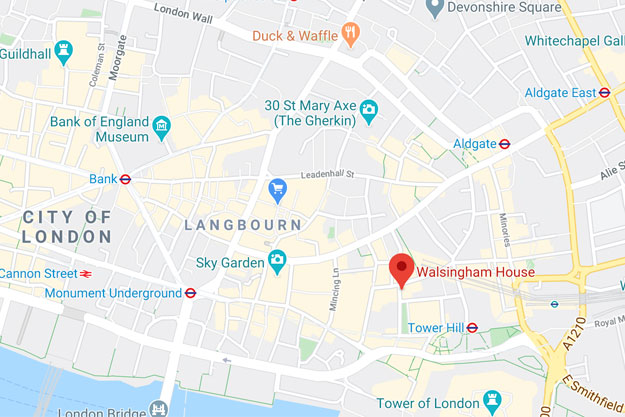 In a premium location in the bustling EC3 zone, these serviced office spaces to rent are easily reached by various means of transport. The building's optimal position in the financial district provides the perfect solution for any business looking for a central and well-served office area. At a short walking distance from main points of attraction, Walsingham House is at a few minutes by foot from main tube stations, rail services and bus stations.
| Transport Links | Train & Metro Line | Walking Time to Walsingham House (mins) |
| --- | --- | --- |
| Fenchurch Railway Station | Trains to Southend on the c2c line | 1 min |
| Tower Hill | Circle, District | 2 mins |
| Tower Gateway | DLR | 2 mins |
| Aldgate | Circle, Metropolitan | 7 mins |
| Bank & Monument | Central, DLR, Northern, Waterloo & City | Less than 10 mins |
The area provides parking garages which make Walsingham House easily accessible by car too. At a short 6 minutes' walk there is Tower Hill Car Park and slightly further, at 8 minutes distance, Minories Car Park.
Seething Lane Surroundings: what does the area offer?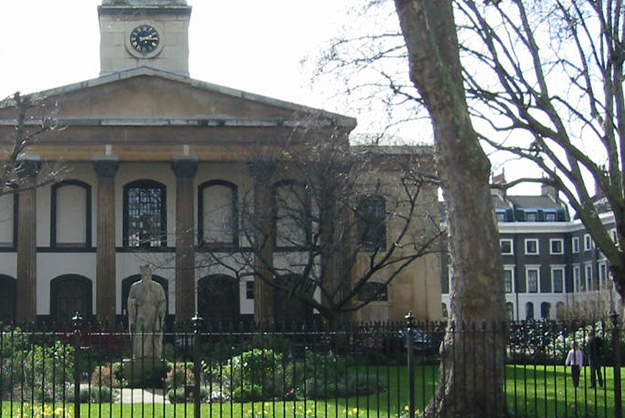 Embedded in the Trinity Church Square Conservation Area, Walsingham House can provide astonishing views of the surrounding neighbourhood. Occupiers of the private three terraced floors, two of which are part of the newly constructed floors, can in fact take advantage of this premium feature and experience a unique outlook on some of London's most recognisable buildings.

Moreover, being at a short distance from some of London's most historic landmarks including the Tower of London, Tower Bridge, Sky Garden and the Gherkin, Walsingham House offers visitors and occupiers the benefits of a vibrant and eclectic atmosphere.
Parks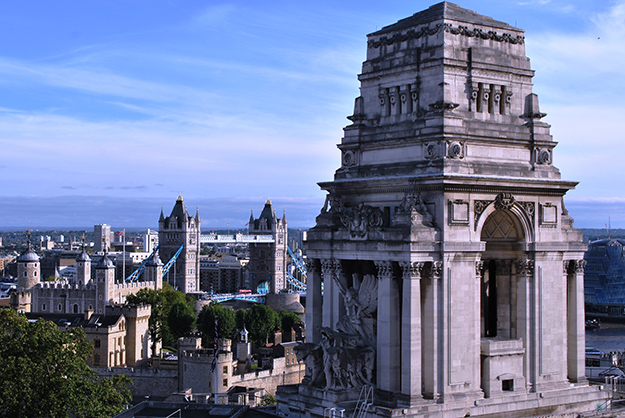 © Elisa.rolle (image)
Just a stone-throw away down Seething Lane, cornering Pepys Lane, the historic Seething Lane Garden opens up on a formal lawn design. With pockets of trees and shrubs, in the spring the park provides cool shade and brilliant colours. The garden is a small oasis for workers and visitors to enjoy a break in an open environment. Formerly the site for the Navy office, Seething Lane garden has quite the history which can be discovered by strolling around its engraved paved area.
Restaurants, Pubs and Markets
Set in the Square Mile, Walsingham House couldn't be better served by restaurants, cafes and pubs. The area has a great variety of restaurants to meet all tastes, some even graded with Michelin stars. Well-known food chains, supermarkets and some of the best pubs in London are also at easy reach of the building. Most notable, at a 5 minutes' walk is the Leadenhall Market, another unmissable stop for those seeking a shopping and dining experience in the area.
Accommodation
Business visitors can find quality accommodation at the Four Season Hotel at 10 Trinity Square, just a door away from Walsingham House. Another option is the Novotel at the other end of Pepys Lane.

If you'd like to book a viewing or find out more information about the property, please visit the property page and fill out our online enquiry form or call.