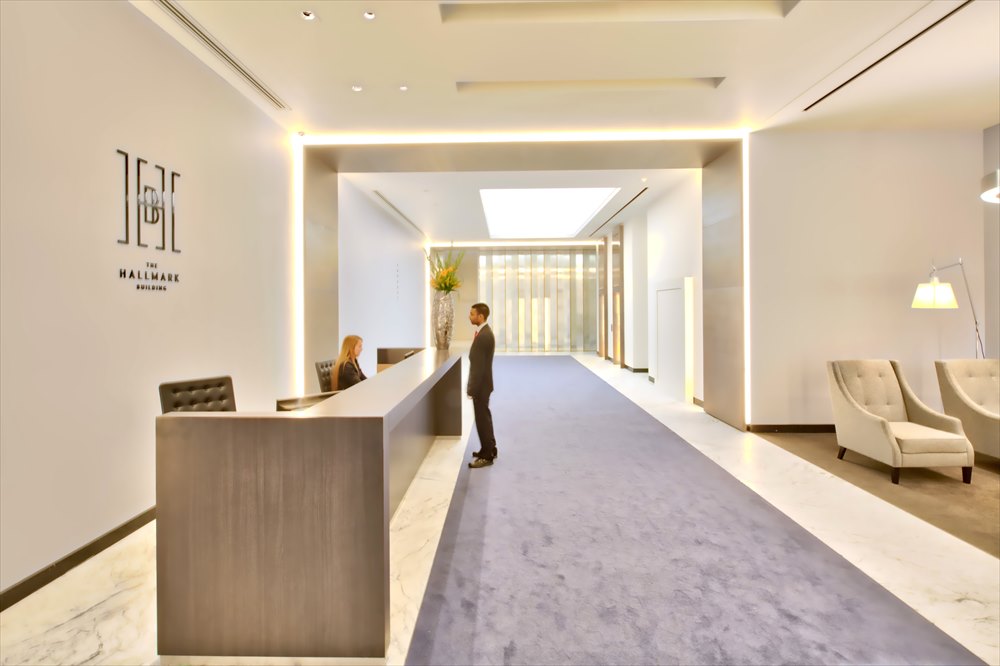 Greetings to Crawford & Co at Hallmark Building, EC3
We are pleased to announce that Crawford & Company, one of the world's largest independent claims management companies has found a new home at Hallmark Building, EC3.
Redesigned by renowned architects, Orms, this historical building has been elegantly updated and offers unique office space with exceptional ceiling heights, bright open floors and characterful features.
The building is situated in the heart of the City's insurance district; home to Lloyd's of London, the Leadenhall Building and the vibrant Leadenhall Market. Leadenhall Street provides a unique and historic location at the heart of the insurance and financial district.
A wide range of cafés, restaurants and bars are on the doorstep, but an equally short stroll in any direction will reveal a variety of exciting and ever evolving areas – from the fine dining of Bank and Spitalfields, to the hip new venues in Aldgate and waterside venues of St. Katharine Docks.
Bank, Monument and Liverpool Street underground stations and Fenchurch Street Mainline are all within 5 minutes walking distance.
Since 2016 Newton Perkins has provided strategic advice toward a comprehensive refurbishment of the common parts, entrance halls and office floors (on a rolling basis). We have successfully let c. 230,000 sq ft over the period and we were recently retained as joint letting by new owner M&G Real Estate.
Crawford & Co will occupy the part 3rd Floor (9,652 sq ft).
For more information please get in touch with Jon Beilin (0207 456 0727) or Chris Sutcliffe (0207 456 0706)
5 Fleet Place to be sold!
5 Fleet Place, EC4, the home of lawyer Charles Russel Speechlys has been brought to market by a Chinese real estate investor at a guide price of £182.5m. This would represent a yield of 4.2%.
This was the first property investment for Poly Developments when it paid around £145m for the building back in 2016.
It is situated close to Ludgate Circus on the east side of Farringdon Street comprising a mixed-use building which was redeveloped in 2008 to provide approx. 130,000 sq ft of office space.
London Bridge to close for 8 months!
Between March and October 2020, London Bridge will be closed to traffic, allowing important repair works to take place.
Buses, registered taxis and pedestrians are the only exceptions to the closing. It is questionable whether the presences of buses will allow reasonable progress to be made but nevertheless, the City of London is confident that the works will be successful. Private cars, buses, lorries, motorbikes and other vehicles will all be prevented from using the bridge.
Tour buses will be permitted to use the bridge, but tourist excursion coaches — which often use the bridge as a vantage point to get Tower Bridge images — won't.
Under both scenarios, pedestrians will still be able to walk across and use the bridge, though they have been warned to be mindful regarding the already congested pavements which will be thinner than normal, since one will be shut down before August. TfL advises cyclists using, if appropriate, an alternative route such as the Southwark Bridge, especially during peak periods when congestion is anticipated.
Lloyd's of London trials first online sale of insurance
Lloyd's of London said on Wednesday, as the 330-year-old commercial insurance market continues to modernise, that it will test an online marketplace to handle simple insurance risks this year.
Lloyd's, who began life in the coffee house of Edward Lloyd in 1686, is trying to become more efficient and cut costs as it competes with rival insurance centres like Bermuda and Singapore.
Lloyd's announced last year it would introduce two online platforms as part of the modernisation efforts, one for basic and one for more complicated insurance threats.
It said it took a 40% stake in an emerging online placement programme, PPL, on Wednesday which will form the basis for the dynamic sharing of risks.
"We are now ready to start building the Future at Lloyd's, having achieved three major objectives - securing finance, setting the governance structure and detailing the plan for the next 12 months and beyond," Chief Executive John Neal said in a statement.
The Lloyd's business consists of 99 members of the syndicate and it insures everything from ships to sculptures. Much of its business is conducted face-to-face at its City of London headquarters, with traders and underwriters holding papers in briefcases and even large suitcases around the city!