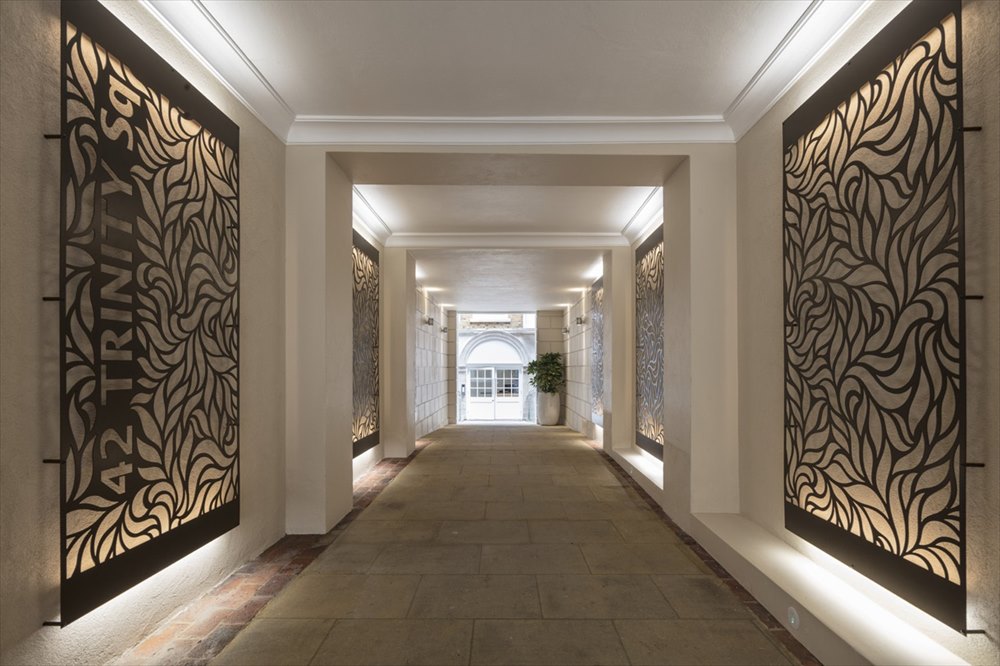 42 Trinity Square - Taking Shape!
Coronavirus - Impact of Lloyds of London
The Importance of Defibrillators
City welcomes Le Cordon Bleu
Smart Tech - 'Unveiled'
42 Trinity Square – Taking shape!
We are delighted to welcome insurance specialists CWA International to 42 Trinity Square. They have taken the 5th & 6th offices (2,475 sq ft) which include a unique terrace overlooking the Tower of London and Tower Bridge – quite the view!
In addition, we have also placed the 4th floor under offer meaning only 9,649 sq ft remains available.
42 Trinity Square has been comprehensively refurbished by architects, TTSP, to provide grade A office space including all new mechanical services, a manned reception, bicycle storage, showers and lockers and a landscaped courtyard.
The building is located immediately adjacent to Tower Hill underground station which provides excellent access to numerous London transport services. There is also an abundance of hotels and restaurants in the area including the two Michelin starred Le Dame de Pic at the Four Season's 10 Trinity Square hotel and for the more health conscious diner, the Natural Kitchen at the Double Tree by Hilton is always a great option.
Coronavirus - Lloyd's of London is 'prepared' for lockdown
Lloyd's of London has "emergency trade procedures" in place to guarantee continuity of operations if the coronavirus outbreak restricts access to its building.
The insurance market, which is 330 years old, will support electronic placing, it said in a business note yesterday.
Lloyd's is one of the City's last face-to-face trading bastions, with insurance employees touting a familiar sight in EC3's streets and bars for their reports. The industry has made a push towards electronic trading but most of its company remains one-to-one.
Lloyd's said its Italian office staff remain on a rota, with around one-third of employees in the office and two-thirds working from home.
The offices in Singapore and Hong Kong returned to normal on March 2nd and its offices in Shanghai and Beijing are on a steady return to normal operations Lloyd's added.
The industry said it had not prohibited access to the building or limited the number of participants per conference, but said it was under constant review:-
The importance of defibrillators proved - 75% survival rate for heart attacks within the City
Quick-thinking city of London workers combined with use of life-saving devices helped allowed enough time to bring a number of patients suffering from heart attacks to hospital last year.
Eight individuals who had heart attacks in the City of London last year were treated by sensibly located defibrillators. Sadly two of them died, but the devices saved six more who were taken to hospital for further care.
Dr. Andy Liggins, a public health consultant, told councillors at City of London: "While this was a limited amount of cases, it indicates the importance of universal defibrillators, with a performance rate of 75% being a really good result for patients."
The average rate of people who survive heart attacks in the City is 11 per cent, according to a survey by a London Ambulance Service. But this goes up to 57 per cent when a defibrillator is available and used.
City of London to open a fine dining restaurant – Le Cordon Bleu!
Le Cordon Bleu Culinary is opening what has been described as a huge gastro pub come fine dining restaurant café and cooking school concept this spring called Cord on Fleet Street in the City of London.
The 90-cover Cord by Cordon Bleu restaurant is open for lunch and dinner, Monday to Friday, and offers evening tasting menus, a la carte menu and a weekly changing set lunch menu, priced at £25 per person.
Dishes will include heritage tomato carpaccio with creamy buratti, brick faille, Manchego and Lampung pepper; fennel, pomegranate, apple and yuzu roasted rainbow trout; sole and lime poached Dover; and lamb with polenta, sea herbs and broad beans.
The 30-cover Cord Café will offer French patisseries and viennoiseries baked on site, alongside sandwiches, salads, soups and bread.
Le Cordon Bleu already operates restaurants and cafes in London, Tokyo, Paris, Ottawa and Lima.
Smart Tech – 'Unveiled'
We would like to congratulate our good friends at Smart Spaces whose pioneering technology is being adopted by a number of leading Landlords.
No more so than the team behind 22 Bishopsgate who claim that the technology will make the brand new tower building the 'smartest building in Europe' by amongst other things, allowing guests and workers to use an app as their access pass rather than checking in at a reception desk and furthermore, using the app to control solar radiation activated window blinds. A further ground breaking elements will allow building management to make changes in real time via a building "digital twin".