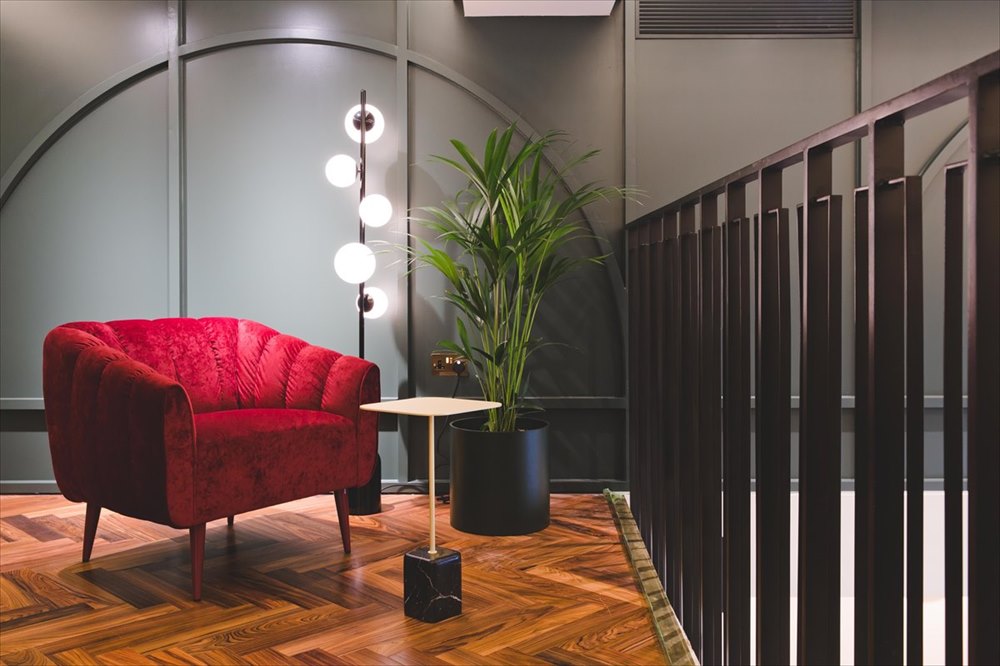 When seeking office space London businesses are increasingly looking at sustainability. But what constitutes a sustainable workplace? And what benefits does it offer both employers and employees? This is a topic we're about to explore.
What is a sustainable workplace?
A sustainable workplace successfully safeguards the health, safety and welfare of its employees, whilst considering the bigger picture and the future view in terms of environmental credentials.
What are the benefits of creating a sustainable workplace?
A sustainable and healthy workplace promotes a more fulfilled and motivated workforce. This, in turn, boosts productivity and reduces work-related hazards and illnesses. All of this is fundamental to enhancing the overall reputation and profitability of a business.
An OnePulse survey by leading office design, fit-out and refurbishment specialist Morgan Lovell, revealed that 73 per cent of UK office workers are of the opinion that a sustainable workplace boosts productivity, with 72 per cent stating it was important to them to work in a sustainable environment.
Camilla Read, environmental and sustainability manager at Morgan Lovell, said: "A sustainable workplace doesn't only impact the environment, but also the people in it, and it's clear that employees are increasingly recognising this – now it's time for employers to take action.
"The fact that nearly three-quarters of our respondents said that working in a sustainable environment was important to them proves that this must be a key consideration when embarking on any office project." How to create a sustainable workplace?
When defining sustainability, 40 per cent of the OnePulse survey respondents cited 'energy efficiency' as most important. This was followed by 'recycling' (25 per cent), 'low carbon emissions' (10 per cent) and 'natural light' (9 per cent).
When it comes to creating a sustainable workplace, generally, it will all boil down to the simple basics. Peter Weston, managing director of Morgan Lovell in London, says that energy efficiency and recycling are 'easy wins'.
"Industry research has reaffirmed the advantages of optimising our physical environment," he says. "Improving indoor air quality by using low VOC materials and increasing ventilation, for example, can result in 8 to 11 per cent gains in productivity.
"So, when we now talk about sustainability, we see health, wellbeing and productivity as new metrics – a radical development in commercial property."
What are the key features of a sustainable workplace?
Image: Victoria Station, Belle House, Platform 1, SW1V
London office spaces that can be classed as sustainable will typically incorporate wellbeing measures that boost productivity, health and satisfaction. Such measures may include:
Living walls brimming with thriving plants
Accessible outdoor space
Switchable smart glass windows
Intelligent insulation
Innovative ventilation systems
Smart energy management systems
Automated low-energy LED lighting systems
Ample natural light
Strategic recycling
Bicycle hire and storage
Water conservation strategies
Finishes and products that reduce or remove airborne pollutants and allergens
When it comes to sustainable office space London is one of the most pioneering locations that seem to be adopting all the right measures.
Sustainable office design should not be considered a revolutionary idea. It's something that's very much in the here and now. From smart building management technology to simple strategies like bicycle storage facilities that promote an eco-friendly commute, there is so much businesses and building owners alike can be doing to make their footprint that bit greener. Enjoying improved staff retention is just an addition to the bargain.
For office space London businesses can rely on for sustainability features, look to Newton Perkins
Looking for office space in London? Seeking to tick all those important sustainability boxes? Want to attract great talent and retain the best staff by demonstrating eco-friendly and wellness credentials in your city workplace?
Speak to the specialist team at Newton Perkins. Their expertise will help you discover the benefits of today's modern London office. Please feel free to contact our dedicated team to talk through your individual needs, and vision for a sustainable office space.