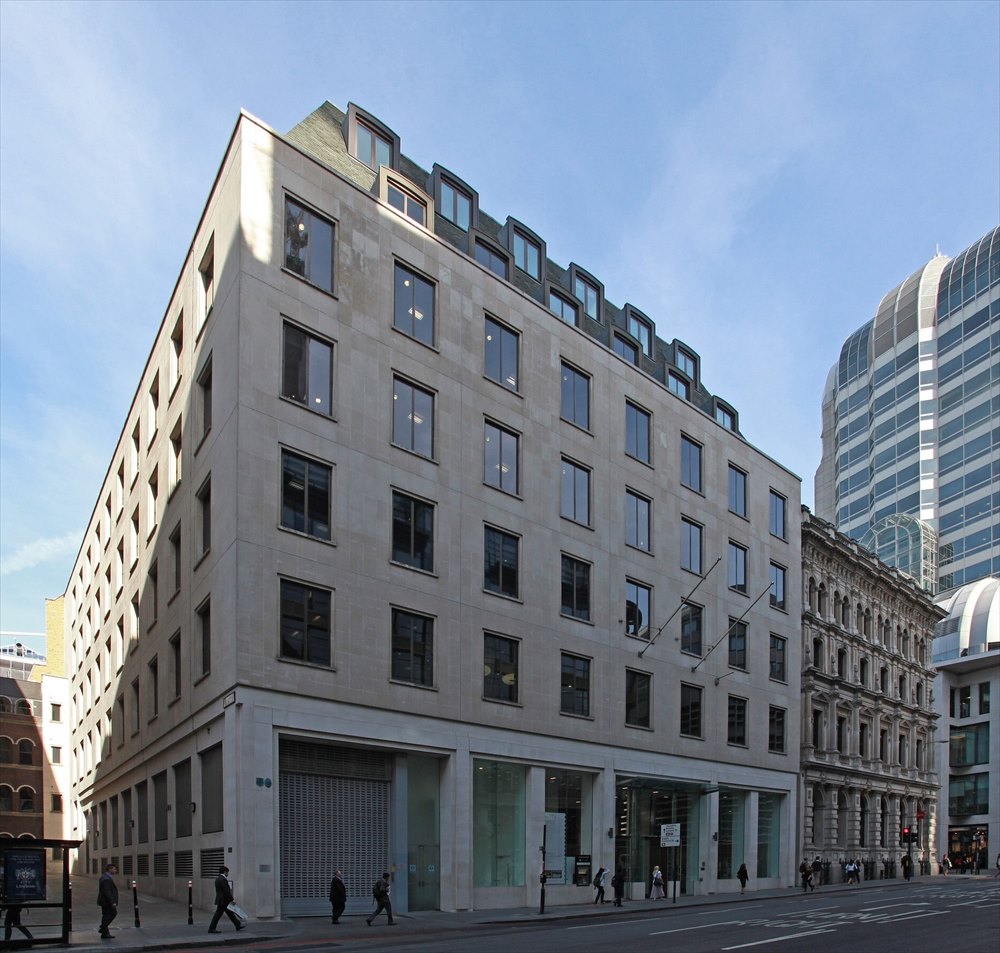 New Instruction – 33 Gracechurch Street, EC3
Newton Perkins has been instructed alongside Allsop as joint letting agents at 33 Gracechurch Street, EC3.
33 Gracechurch Street is a prominent located Grade 'A' office building totalling just over 100,000 sq ft, occupying an imposing site on the western side of Gracechurch Street, at its junction with Lombard Street.
The Grade II listed north and north-eastern element of the façade was originally built in 1868 and was combined with a new modern façade to the south in the late 1970s to form a single building with contiguous floorplates and a new entrance to Gracechurch Street. A further redevelopment in 2007 further extended the building to provide an additional floor.
The double-height reception was entirely remodelled to a contemporary design by Morey Smith Architects in 2012 and now provides a striking entry point to the building.
We will shortly be launching the 4th and 1st floors totalling 14,348 sq ft and 15,351 sq ft respectively.
For further information please contact Jon Beilin (0207 456 0727) or Chris Sutcliffe (0207 456 0706).
Deal done at Walkie Talkie!
We are delighted to announce the letting of the 5th floor south offices (7,987 sq ft) at 20 Fenchurch Street EC3 (aka the Walkie Talkie!) to Ocorian Limited, a global corporate solutions firm specialising in fund, corporate, capital market and private client services.
This leaves the 5th north and 6th floor offices that offer high quality, fitted out accommodation comprising:-
6th Floor 15,284 sq ft
5th North 5,855 sq ft
*The 6th floor can be split from 4,000 sq ft upwards.
New flexible subleases are available until August 2031.
For more information please contact Jonathan Beilin (07976392016), Jack Wells (07741900431) or Roger Weaver (07976634189).
10 Fenchurch Street sold to Hong Kong's Mighty Divine Investments
Chuang's China Group, a listed Hong Kong investor, has officially sold 10 Fenchurch Street, EC3, a multi-purpose City Office, for £94,215m to a private Hong Kong family office. The transaction was completed on 1st September 2020 and points to, the continued interest of Hong Kong investors in the London office market.
Chuang's China Group acquired 10 Fenchurch Street, EC3, from Standard Life for £80m, a net initial yield of 4.4%, in 2016.
In an announcement on the Hong Kong Stock Exchange on 2 June, Chuang reported that on 30 April, both parties had entered into a sale and purchase agreement that would see a deposit of £9,421,500 paid in cash by the undisclosed bidder upon signing the sale and purchase agreement, with a balance of £84,793.5m paid in cash on the date of completion.
It is known that the private Hong Kong family office owner is a Mighty Divine Investments company and is preparing to develop a major City Tower.
The property is situated on 6–12 Fenchurch Street and 1 Philpot Lane in the City, and is near to Monument Station. It is an 11-storey commercial building with approximately 77,652 sq ft of office and retail space.