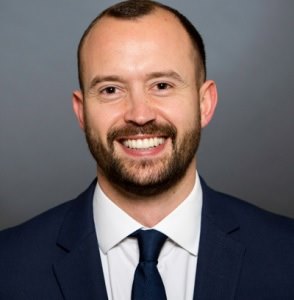 We are delighted to announce that George Blakemore has joined our agency department as a Partner to focus on our thriving occupier client base.
For the past 7 years George has worked at occupier specialists Devono, where he has delivered best in class strategic and transactional advice across central London and the wider UK. Prior to this, George started his career at Knight Frank in Birmingham, advising both landlords as well as occupier clients.
A selection of occupier clients include Bumble, JMW Solicitors, Fishawack Health, IP Group, MTR Crossrail, GSN Games & Travelodge.
Hailing from the Midlands, George is a proud supporter of Wolverhampton Wanderers FC. When he's not doting over his new born daughter, in his spare time George is trying to finesse his golf swing.
George commented "Following 7 very enjoyable years at DeVono, I am delighted to have joined the Newton Perkins team where I'll be working in the Occupier Acquisitions Team covering the wider City, West End and Fringe Markets. I'm excited to join a well-established and respected agency firm with a clear vision for the future and providing a 'best-in-class' service to its clients."
Email: gb@newtonperkins.com
Tel: 0207 456 0703