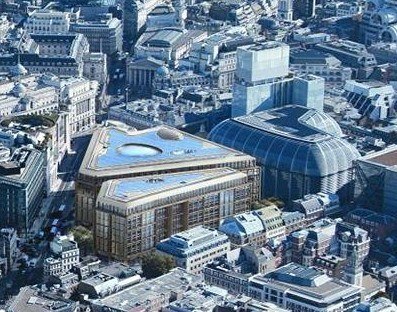 The Corporation of London is to debate the sale of a further parcel of land which will facilitate US financial giant Bloomberg's plans for a new 10 storey 660,000sf Headquarter office complex together with a retail arcade it describes as a premier "retail and dining hub in this part of the City".
Click here for further information on Bloomberg's plans.
Cannon Street has undergone major regeneration after years of being seen as a relatively poor relation amongst similar main City thoroughfares. A much overdue makeover of Cannon Street Station has recently opened underneath Hines' behemoth 390,000sf development , Cannon Place, which awaits its first tenant. It sits opposite the similarly sized Walbrook Building (now part-let to insurer A J Gallagher and agents Jones Lang LaSalle).
The local area has been improved by completion of The Corporation's pedestrianisation of surrounding streets such as Walbrook, Queen Street and St Swithin's Lane.
Newton Perkins is shortly to commence marketing of Walbrook Land/Palmer Capital's 103 Cannon Street (103 Cannon Street) .The building is finished to a first class, contemporary standard with a triple (!) height entrance hall and a spectacular three tier staircase. The highly specified air conditioned offices include barrel-vaulted ceilings and enjoy views over both Cannon Street and the historic and recently re-landscaped St Swithin's Church Gardens.
For further information, please contact: David Alcock or Harry Trotter.