Office Space EC3 London
Situated in the heart of the city EC3 is home to some of the world's most distinguished financial institutions and multinational corporations and is one of the prime locations in the city. It is a highly prestigious area, ideally situated for both clients and customers alike. With Underground and national rail links, a wealth of luxury hotels, bars, historic landmarks and restaurants it is one of the most convenient locations for everyday commuters as well as adding an additional level of recognition to your organisation.
EC3 is popularly known for finance businesses, specifically for those specialising in insurance. As the home of London Underwriting Centre and Lloyd's of London, EC3 has been the hub of UK's insurance industry for the past hundred years.
Located on the east side of the City and nestled on the North bank of the Thames, office space in EC3 has superb connection links to the rest of London and the rest of the UK through the Underground and Overground rail links.
The Fenchurch Street station is serviced by C2C Rail Company. Aldgate station is on the Circle and Hammersmith & City lines, whilst Tower Hill is serviced by Circle and District lines. On the other hand, Liverpool Street station is just a few minutes walking distance from any London office space in EC3. This is on the Central line along with national railways service to East Anglia and Stansted Airport.
As a business, if you're searching for an office space in EC3 or the rest of London, then Newton Perkins are able to facilitate your needs! We can offer your business access to our agent's proficient local knowledge along with a deluge of experience.
At Newton Perkins, we pride ourselves on the depth of our knowledge and expertise regarding our commercial properties in EC3. Our team are the perfect matchmakers for your business and an office space that suits your needs, prestige and calibre. Our team are dedicated to ensuring that your new office space will surpass your expectations.
Significance of Square Mile:
Over the past few years, Square Mile has turned into one of the largest hubs in the financial sector. There is a huge range of financial institutions emerging within Square Mile. The following details will help you understand why you should consider an office in Square Mile:
- Approximately 15,000 companies
- Generating £45 billion a year
- 39,000 people are employed in this hub
These are, of course, approximate figures and are constantly growing as the location receives increased development and investment. This increment in figures is directly proportional to the need of experts like us. We guide our clientele in leasing an appropriate London office space EC3 for their business.
The presence of recognised multi-national financial institutions is providing a significant boost to the growing number of financial companies moving into this post code. This is also attracting more foreign business, thereby adding to the ever-increasing number of commercial activities. At Newton Perkins, our clients' needs are our core priority and we're dedicated to providing optimal solutions for you. We offer the level of tailored services that you'd expect within Office Space EC3 with a track record for exceptional performance. Square Miles is the ideal location for your corporate office or headquarters. Our London Office space EC3 houses impeccable bank premises, financial and insurance companies, and we'd welcome the opportunity to add you to our portfolio or satisfied clients.
Amongst our EC3 financial office space at Square Miles are:
- Ernst and Young
- Aviva
- Lloyds
- BT
- AIM stock market and many more
You don't need us to tell you that having office space EC3 is incredibly alluring and will establish your business amongst some of the most respected businesses in the world.
Featured Properties for Office Space EC3
At Newton Perkins, we understand the importance of not only the prestige of your locale, but of the grandeur of your interior. Here we showcase some of the features of some of our favourite London office spaces in EC3:
Located in the very heart of EC3 Insurance and Shipping District; it is situated on the East side of America Square. Liverpool Street, Aldgate, Tower Hill, Monument and Fenchurch Street Mainline Station are all within a few minutes' walk . There are two floors available in the building; 2nd floor costing around £19.28 per sq ft (est.) and 4th floor for around £18.61 per sq ft (est.). Amenities such as air conditioning, shower facilities, 24 hour access, fully accessible raised floor, and many other features are also available.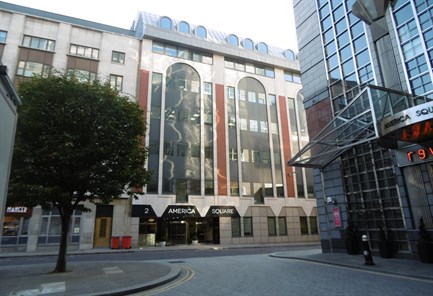 65, Leadenhall Street, EC3A 2AD
Leadenhall is prominently situated on the South side of Leadenhall Street, close to the Aldgate junction . This building is also located in the heart of City's Insurance and Shipping District. Leadenhall provides easy access to both The London Underwriting Centre and Lloyds of London.
With space on the 1st floor at an estimated rate of £20.44 per sq ft. Metal tiled suspended ceilings, automatic passenger lifts, bike storage and shower facilities, are amongst some of the amenities provided in the building.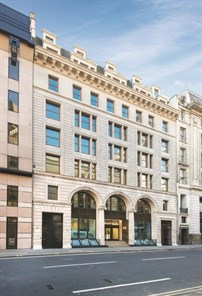 Plantation Place South, 60 Great Tower Street, EC3
Plantation place south occupies a virtual island site on the North side of Great Tower Street, which is again at the centre of the City Insurance District. Extensive underground and mainline connections are provided by Liverpool Street, Fenchurch Street, tower Hill, Monument and Aldgate.
In this premise, 4th floor and 6th floor is available for an estimated £21.54 per sq. ft. With all our properties we offer unique facilities like basement storage, prestigious reception hall bike racks and more.
Perks of Having Office in EC3
Residing in the heart of the City, we understand the importance of superior location. We have helped dozens of clients find their perfect office space in EC3. The City has businesses spanning hundreds of industries, however, we primarily focus on supplying luxury office space for Media, IT and Communications, Business Support Services companies. If you're undecided on office space within the City, here's some reasons we believe EC3 will fit your needs.
Location
The main benefit of working in Square Mile is that you have your EC3 office space is one of the most affluent areas of London. With all the amenities a well-funded start-up or established financial services needs and good transport links, we find employee satisfaction is higher than in other areas of the City.

Investment
Over the past decades EC3 has seen significant development in infrastructure, that is set to continue in the foreseeable future. With the area representing many of the business elite, the Government recognise the significance of ensuring the area continues to grow. Our agents are specially trained to offer you the best rates available and are able to guide you on monthly charges, potential costs and savings and forward planning to make sure you are not stung by rising business rates.

Status Symbol

By moving your business into the financial hub at the heart of the City, yor business' reputation and standing increases. By holding office space with Newton Perkins, we'll ensure the needs of your employees are met, to maximise productivity, whilst improving how your business is viewed by your clients, peers and competition.

Newton Perkins: Why Choose Us?

Firmly established in 1916, we have over 100 years experience in providing specialise, responsive property advisory services and office leasing to meet our City clients' needs. Our reputation makes us the ideal partner to guide you in your search for office space in EC3. Located in the heart of the City ourselves, we understand your needs and are able to provide priceless insights to based on value, rent and the availability of office space.

When beginning our search for your ideal office, our team begin with a meticulous appraisal of your existing office and operational requirements to ensure total satisfaction. Relationship between clients' office space, culture, brand, ethos and external parties such as ourselves is crucial to success. At Newton Perkins, we boast multi-disciplinary skills to address any challenge that is put forth by our clients. We also pride ourselves on the proficiency, energy and innovative thinking that we endeavour to bring to each and every project. For further enquiries or more information and guidance get in touch with us today. To find out why so many clients choose Newton Perkins, call us on +44(0)20 7456 0700 or drop in an email on info@newtonperkins.com.