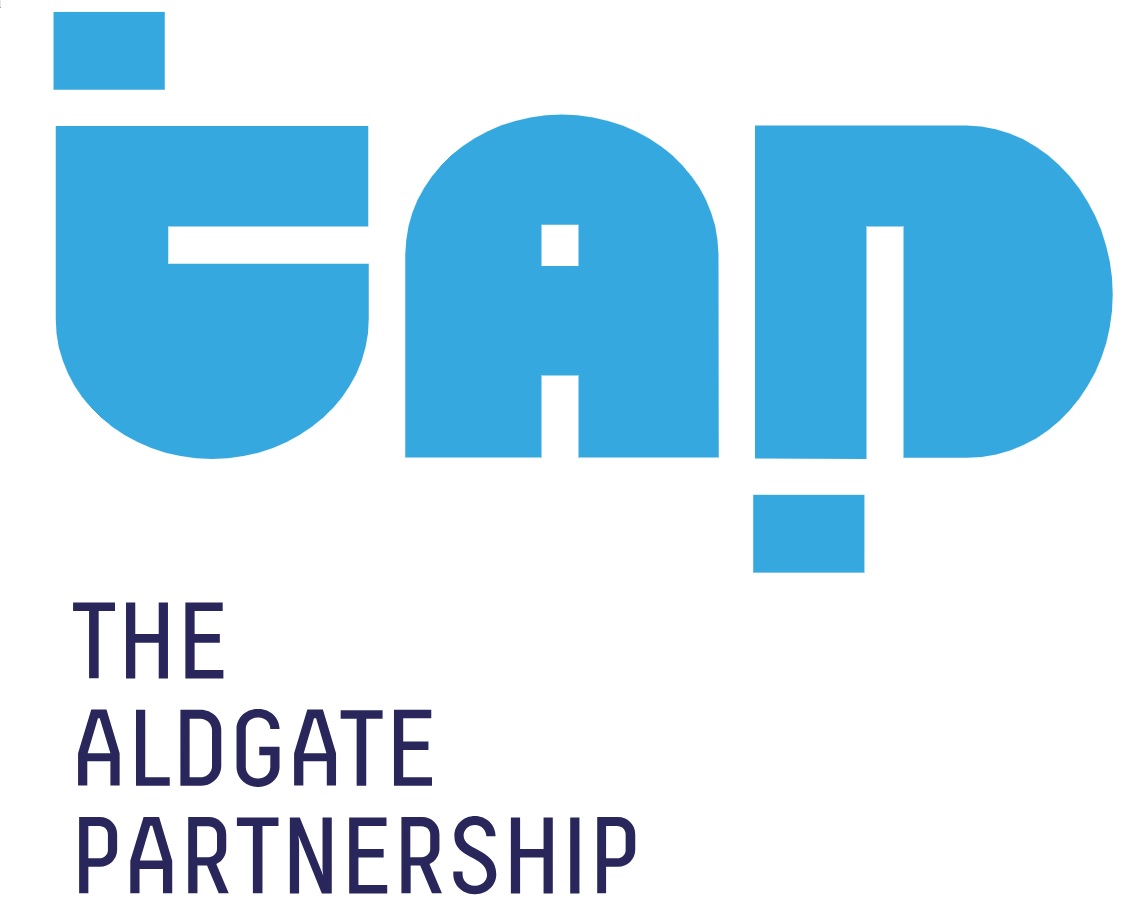 Newton Perkins is a proud Board Member and Seed Partner to The Aldgate Partnership (otherwise known as TAP or Aldgate Connect).
TAP is an exciting development bid aimed at enhancing the area through internal investment, public realm improvements, infrastructure projects and general collaboration between all local stakeholders.
VIRTUAL WELLBEING SERIES WITH CITY BIDS & PARTNERSHIPS
Join us for the first ever joint Virtual Wellbeing Series, brought to you by Aldgate Connect BID, Cheapside Business Alliance, EC Partnership and Fleet Street Quarter: City BIDs & Partnerships.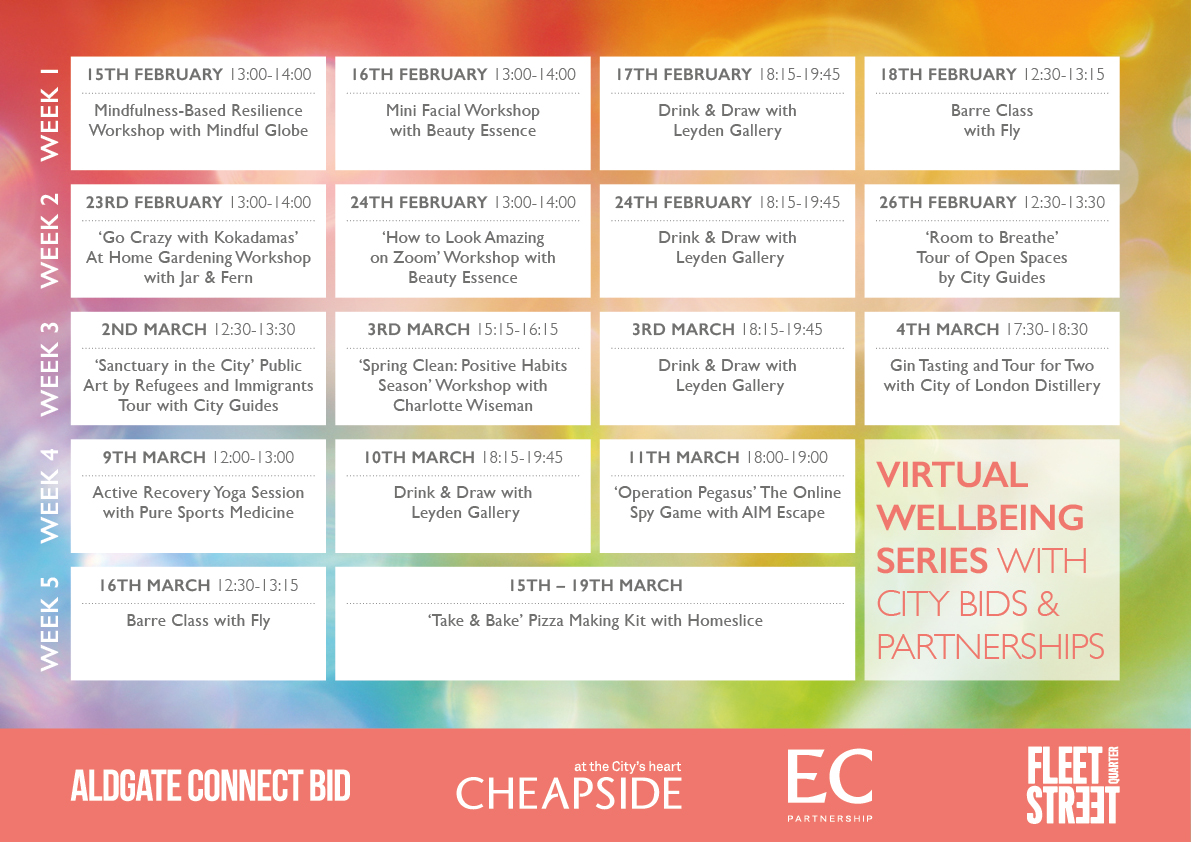 The activities of the Virtual Wellbeing Series range from mindfulness workshops to artistic lessons, from food & drink to beauty sessions, from fitness classes to city tours, and even an Online Spy Game!
To reserve your free spot and to receive the related links to webinars and kits, please use the links from Eventbrite below. Note that spaces can be small, so make a reservation now!
Week 1 – 15-19th February 2021
15th Feb at 1:00pm – Mindfulness-based Resilience Workshop with Mindful Globe
16th Feb at 1:00pm – Mini Facial Workshop with Beauty Essence
17th Feb at 6:15pm – Drink & Draw with Leyden Gallery
18th Feb at 12:30pm – Barre Class with Fly
Week 2 – 22-23rd February 2021
23rd Feb at 1:00pm – 'Go Crazy with Kokadamas' At Home Gardening Workshop with Jar & Fern (Tickets to be booked by 15th Feb, to ensure kit delivery)
24th Feb at 1:00pm – 'How to Look Amazing on Zoom' Workshop with Beauty Essence
24th Feb at 6:15pm – Drink & Draw with Leyden Gallery
26th Feb at 12:30pm – 'Room to breathe' Tour of Open Spaces in the City with City Guides
Week 3 – 1-5th March 2021
2nd Mar at 12:30pm – 'Sanctuary in the City' Public Art by Refugees and Immigrants Tour with City Guides
3rd Mar at 3:15pm – 'Spring Clean: Positive Habits Season' Workshop with Charlotte Wiseman
3rd Mar at 6:15pm – Drink & Draw with Leyden Gallery
4th Mar at 5:30pm – Gin Tasting for Two with Workshop with City of London Distillery (Tickets to be booked by 18th Feb, to ensure Tasting Kit delivery)
Week 4 – 8-12th March 2021
9th Mar at 12:00pm – Active Recovery Yoga Session with Pure Sports Medicine
10th Mar at 6:15pm – Drink & Draw with Leyden Gallery
11th Mar at 6:00pm – 'Operation Pegasus' The Online Spy Game with AIM Escape
BREXIT SUPPORT
Brexit related assistance and signposting for businesses.
Following the changes caused by the UK leaving the EU, there are plenty of tools, support and advice for companies out there. Below, please find some helpful links:
Free 1-2-1 support to help you navigate Brexit
In order to help you navigate the challenges around: hire & manage employees, manage data & intellectual property, import & export with the EU, and business travel, London Business Hub advisors will provide free bespoke advice.For free, unbiased and confidential advice and support, London companies may meet with an advisor. The advisor will discuss your specific challenges and help you to develop an action roadmap.
Reserve your appointment today.
Brexit Workshops
The London Business Hub hosts a series of interactive seminars with specialist advisors to discuss the issues facing SMEs now that the UK has left the EU. These workshops will provide you and your company with the required tools to mitigate problems in areas such as: new HR, visa and jobs legislation, evolving GDPR & data sharing regulations, and how to protect your IP. The next workshop, Doing Business in the EU: The New Landscape will take place on 24th February, between 10am-4:30pm.
Reserve your place on the workshop here.
Find out how Brexit affects your digital services.
The UK is now outside the "single market" of the European Union. That means that the UK for data transfers and digital networks is also outside the single market. Nearly all organisations manage data in some way or another now. You should expect that you will be impacted, even though your primary business is not in digital services. This three-minute video will help you understand how to: protect your Intellectual Property (IP), Collect, Store & Transfer Data, and Check your Digital & Technology Services.
London Business Hub Brexit Ready Podcast Series
A podcast series has been launched by LBH to show companies like yours talking about the problems and opportunities they face. Hear from other organisations how they planned for the end of the transition phase and how they now have a deal to run their company.