Newton Perkins is a proud Board Member and Seed Partner to Aldgate Connect BID.
Aldgate Connect BID is an exciting development bid aimed at enhancing the area through internal investment, public realm improvements, infrastructure projects and general collaboration between all local stakeholders.
CIRCUS IN THE CITY!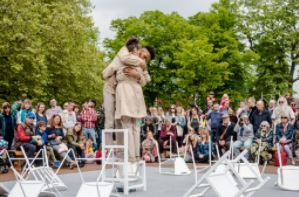 Friday 16 July | Performances at 12.30pm and 5.30pm | Aldgate Square, EC3N 1AF
The circus is coming to Aldgate Square this Friday for a contemporary acrobatic show performed by award-winning performance company Upswing Aerial!
They will be performing Catch Me, an intimate and surprising take on age, race and gender. An older woman and younger man dance together through a landscape of abandoned chairs, discovering joy, risk and unexpected connections in a poignant duet. A mix of poetic dance and acrobatics, Catch Me asks how we see each other and who we value.
Performances will take place this Friday 16th July at 12:30pm and 5:30pm, so make sure you head on down!
And if you're around Aldgate Square this Saturday, why not browse the new Sculpture in the City outdoor exhibition, followed by the mesmerising movements of Whitechapel Gallery's Nocturnal Creatures festival, drawing inspiration from labyrinths and the Greek myth of Ariadne, to propose movement as a form of meditation.
MUSIC IN THE SQUARE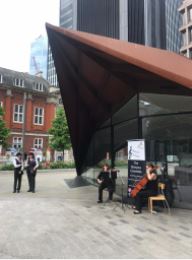 The BID is supporting the City of London Corporation in the activation of Aldgate Square with many amazing exhibitions and events!
This month, we have Music in the Square, a series of wonderful lunchtime concerts. They are occurring every Tuesday & Thursday between 12:00-2:00pm so head down and see wonderful artists in action!
On Tuesdays we have The Dionysus Ensemble, a string duo brightening up your lunchtime. Whilst on Thursdays we have Iago Banet, a wonderful quirky guitarist that you won't want to miss!
So far we have had wonderful feedback, including exciting 'aw yes's' and 'thank you for the music, this was the nicest lunchtime I've had!'!
Grab you friends, family and colleagues and head on down to Aldgate Square for a wonderful lunchtime experience!