Newton Perkins is a proud Board Member and Seed Partner to Aldgate Connect BID.
Aldgate Connect BID is an exciting development bid aimed at enhancing the area through internal investment, public realm improvements, infrastructure projects and general collaboration between all local stakeholders.
Petticoat Lane Thursdays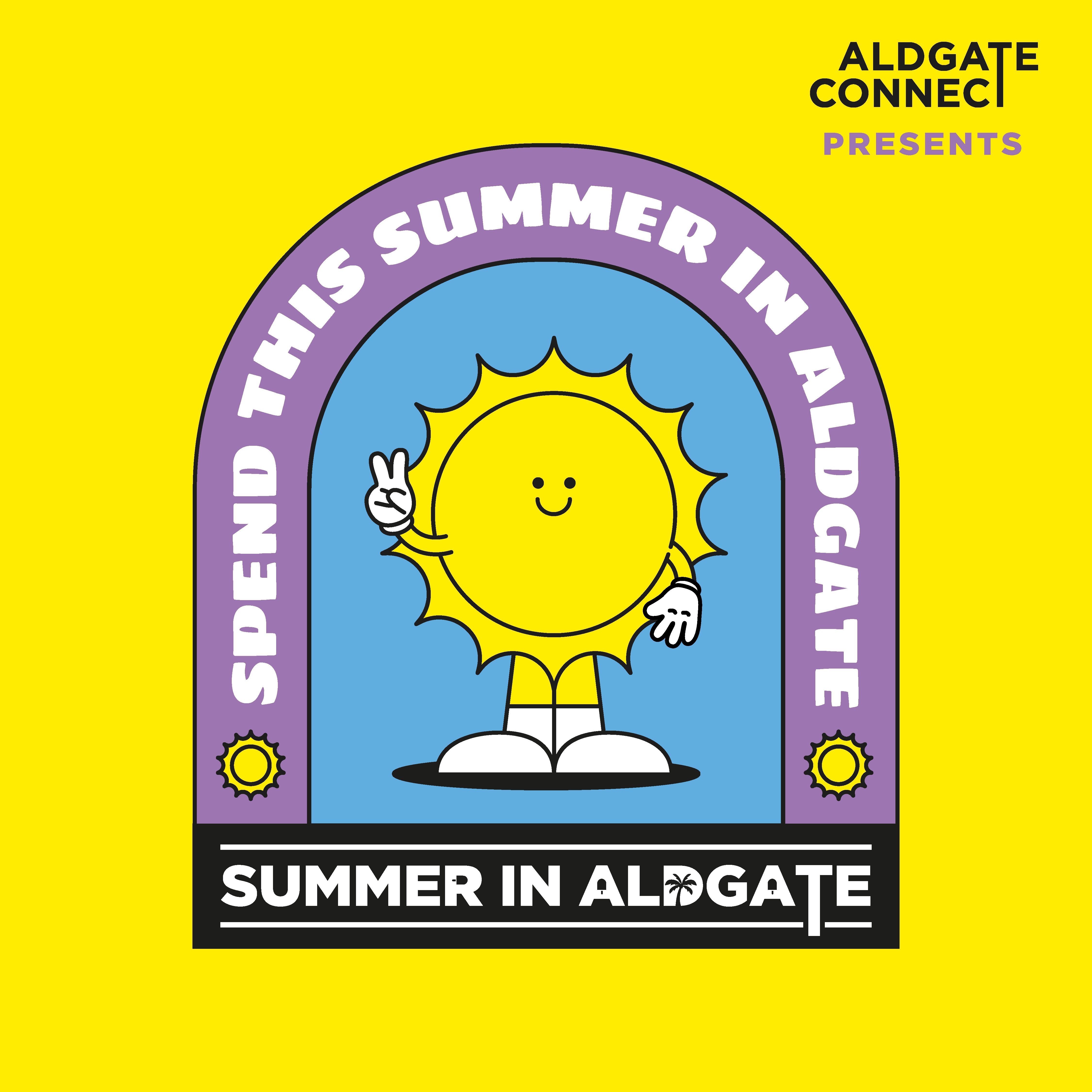 Entertainment, shopping, food and creative goods on Petticoat Lane Thursdays!
When? Thursdays 14th, 21st, 28th July
Time? Market 11:00am-3:00pm, Entertainment 12:00-2:00pm
Where? Goulston Street & Wentworth Street

Dining Outdoors in Aldgate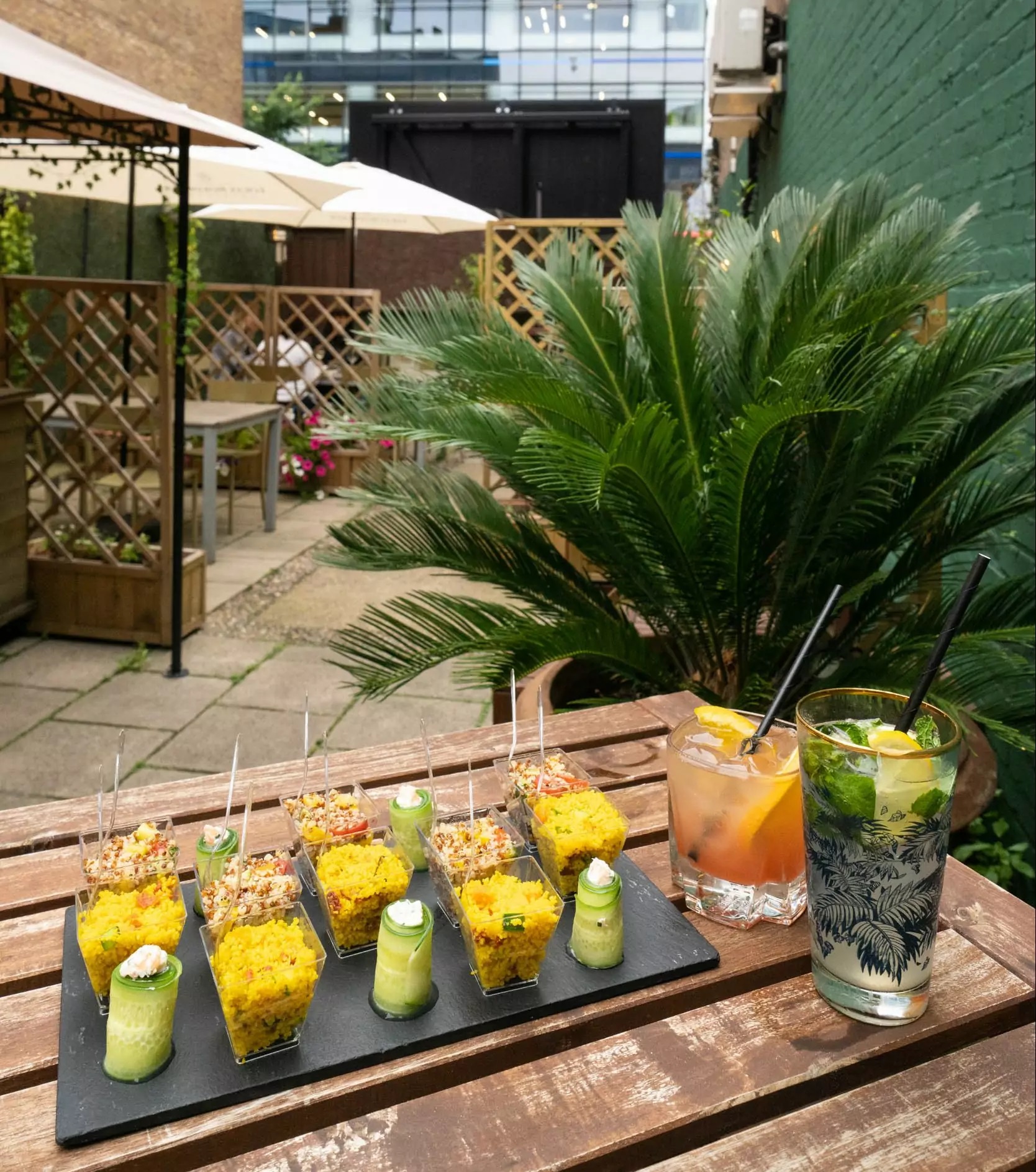 Spend this Summer in Aldgate and check out all the delicious dining places with a bonus of that outdoor spot in the sun!
Coffee & Breakfast
Benk&Bo – Niste
4 Gravel Lane, London, E1 7AW
Benk&Bo is a social enterprise rooted in sustainable choices, craftsmanship and community. Their kitchen, Niste, produces and serves up house baked goods, vegetarian food and the best coffee around every Tuesday to Friday.
Current Café
6 Harrow Place, London, E1 7DB
This independent East Asian Cafe serves speciality coffee, selective loose-leaf tea, superfood latte, handmade health-oriented bakery goods, and East-Asian nutrition-balanced food. All with a vegan or vegetarian options.
Lunch
3 Leaf Box
12 Harrow Place, London, E1 7DB
Serving delicious handmade sandwiches & salads, made with fresh produce.
Curzon Aldgate
2 Canter Way, London, E1 8PS
This comfortable cinema has an open lobby for working on your laptop and comfortable auditoria with double seats. Fresh coffee, teas and pastries alongside an all day menu of pizza and bar food with vegan and vegetarian options available are served at the restaurant. The drinks menu includes a wide selection of cocktails, wine, craft beer and soft drinks.
Dinner
1947 Restaurant, Bar & Pizza Kitchen
38 Middlesex St, London, E1 7EX Pure Vegetarian and Vegan Indian Restaurant, Bar & Pizza Kitchen. Is a place where you can get no-nonsense food at down-to-earth prices, and where you'll be treated right by people who have a passion to serve.
Amber
Goodman's Fields, 21 Piazza Walk, London, E1 8QH
It's about the journey, not the destination. That's why we took our name from the Amber Road trade route. It reflects everything that makes us special – from our eastern Mediterranean roots, to our modern London spirit. This is Amber. A place where all are welcome!
BaLaCo Festival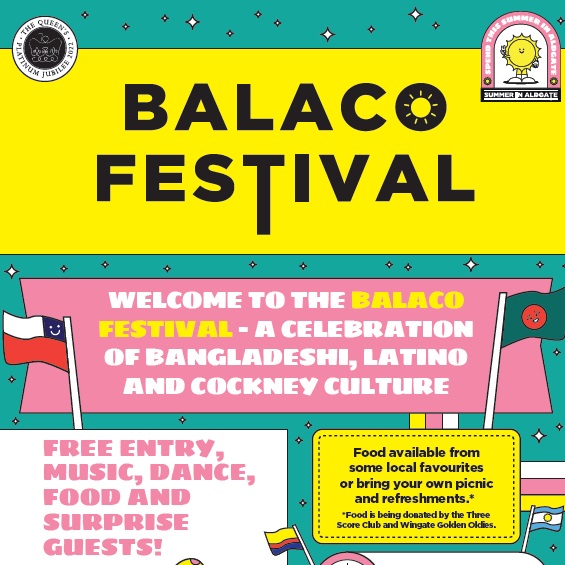 Welcome to the BaLaCo Festival – a celebration of Bangladeshi, Latino and Cockney Cultures
When? Friday 22nd July at 2:00-8:00pm
Where? Aldgate Square, Aldgate High St, London, EC3N 1AF
Join us for a community arts & culture festival to celebrate the different cultures in Aldgate, as part of the Queen's Platinum Jubilee Celebrations. The festival will include free entry, music, dance, food & surprise guests!
Food available from some local favourites* or bring your own picnic and refreshments.
Becket Pageant for London Highlights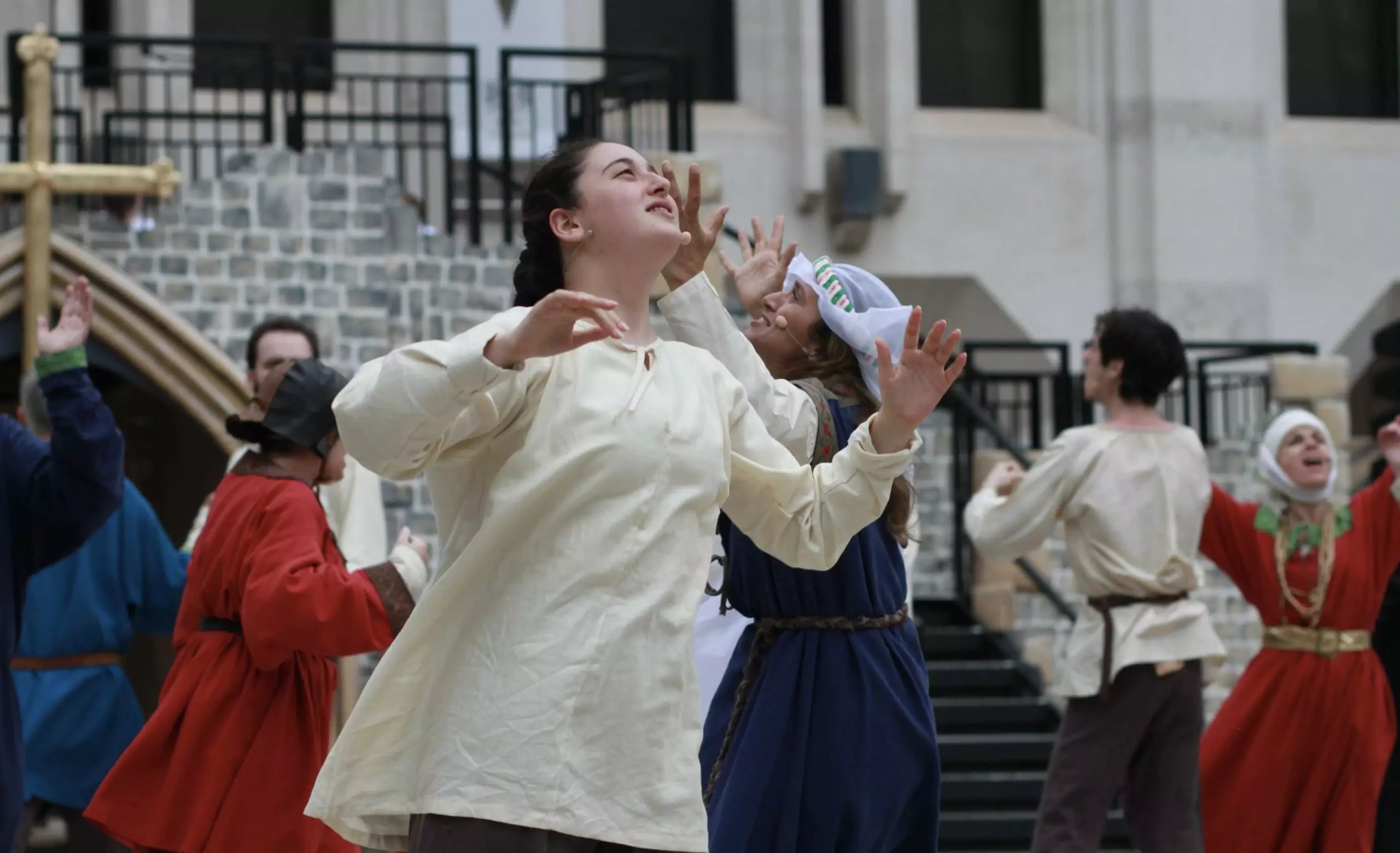 Hundreds Flocked to Guildhall Yard in the City For this Unique Event
Hundreds flocked to see the new musical London's Turbulent Son, about the life of Thomas Becket, which had a successful run of four shows in a pop-up arena in London's Guildhall Yard during the weekend of June 17/18, part of the Becket Pageant for London & Livery Crafts Fair. Written by Emmeline Winterbotham with new songs by Vahan Salorian, the huge community event included volunteers and school children from 3 local schools together with a professional cast and musicians all in period costume and a finale of 'Giants'.
For further information about the Becket Pageant for London visit https://www.becketpageantforlondon.com
Summer in Aldgate 2022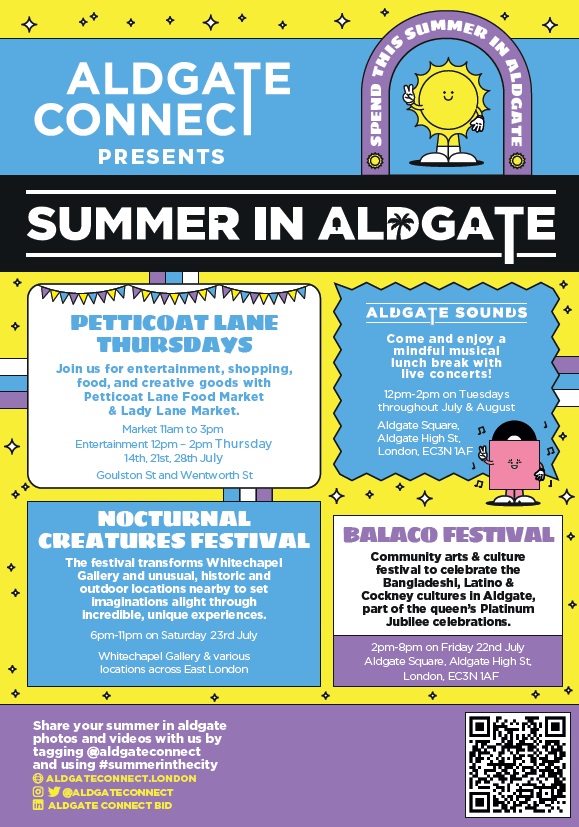 Spend this Summer in Aldgate!
Check out all the activities you can get involved with:
- Come and enjoy a mindful musical lunch break with live concerts in Aldgate Square!
- 12:00-2:00pm on Tuesdays throughout July & August
- Aldgate Square, Aldgate High St, London, EC3N 1AF
- Join us for music, fun, food, and creative goods with Petticoat Lane Food Market & Lady Lane Market.
- 12:00-3:30pm on Thursdays 14th, 21st, 28th July
- Wentworth & Goulston Street
Share your Summer in Aldgate photos & videos with us by tagging @AldgateConnect on Instagram & Twitter!