Newton Perkins is a proud Board Member and Seed Partner to Aldgate Connect BID.
Aldgate Connect BID is an exciting development bid aimed at enhancing the area through internal investment, public realm improvements, infrastructure projects and general collaboration between all local stakeholders.
ALDGATE EATS LAUNCH!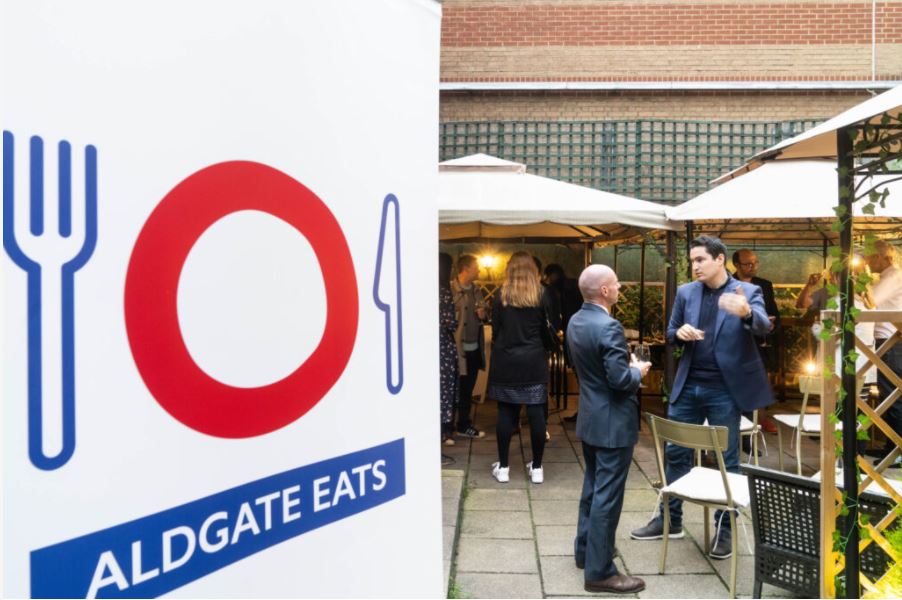 The #AldgateEats launch went down with a bang! Thank you for everyone who joined us for the launch of this amazing initiative and a big thank you to Satyrio Restaurant for hosting us in their beautiful Secret Garden!
The Aldgate Eats initiative is aimed at supporting local hospitality businesses, as well as encouraging networking and forming connections within the community by bringing everyone together.
At each event, Aldgate Eats will try a new venue from the vast and varied hospitality offerings in the area. The scheme was developed by Merchant Land, in collaboration with the Aldgate Connect BID team.
Zoe Barwick, BID Manager said: "It's essentially a platform for locally-minded people to come together and talk about the neighbourhood, their plans and hopes for the future of the area. These types of things have been much missed and it's a great opportunity to support our hospitality sector and encourage people to start spending again. We can't wait."
Katherine McCollough, Merchant Land said: "We're really keen for other businesses to take part and sponsor this initiative and it'll be nice to remind people how nice we've got it here in Aldgate. We might be landowners but it's not just a property networking thing. It's about getting people from all sectors to come together and create useful connections and share their experiences of the pandemic and hopes post-COVID. We're hoping to make it a relaxed event with good food to build a community post-pandemic."
Check out our gallery from the launch here.
PETTICOAT LANE DINING QUARTER PRESENTS: WORLD MUSIC & DANCE FESTIVAL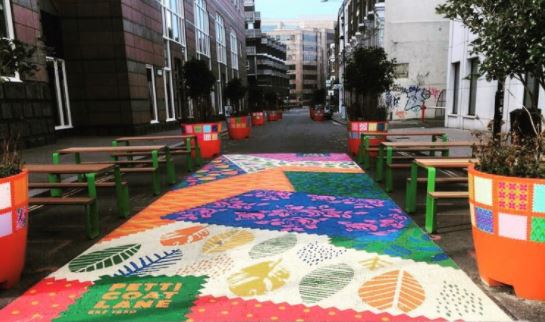 The Petticoat Lane Dining Quarter is a group of 7 independent restaurants and bars providing delicious food from all over the world. This summer they are joining up and providing live music to reflect their origins. Come and join in, have a drink or food with friends and listen to some international tunes!
Brought to you by Mumbai Square, Barcelona Tapas, 1947 Restaurant & Bar, Bife, Sfoglia Bologna, So Restaurant, and The Bell.
WHERE? Petticoat Lane Dining Quarter, Middlesex Street, Aldgate, E1 7AA
WHEN? Every Thursday between 29th July – 2nd September 2021, 6:00-8:30pm
HOW MUCH? Nothing! The events are FREE to those dining or drinking at the restaurants and bars.
EVENTS SCHEDULE:
29th July 21 – Japan – Akari Mochizuki and Hibiki Ichikawa 'Japanese Minyou & Enka singing with Shamisen'
5th August 21 – Spain – Adrian Sola Spanish Guitar
12th August 21 – Great Britain – Paul Cantara 'The Legends Show'
19th August 21 – India – Bollywood dancing
26th August 21 – Argentina – TBC
2nd September 21 – Italy – TBC
Petticoat Lane Dining Quarter have more plans to see out 2021… keep your eyes peeled for more announcements and productions!
Click here for mobile ordering and order food from multiple restaurants straight to your table!