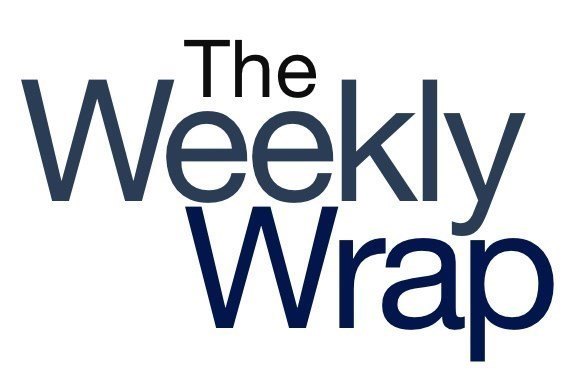 Letting Up at 30 Minories, EC3
Amongst the flurry of recent letting success within the City of London, we are delighted to report two successful deals at 30 Minories, EC3 on behalf of our client DTZ Investment Management.
Operations management EXL Service secured c. 6,000 sq.ft on the first floor west unit, whilst Success Resources, one of the leading global providers of educational resources, seminars and workshops have leased c. 3,500 sq.ft over the second floor east unit. There are now only three office spaces remaining totalling c. 12,500 sq.ft.
The Landlord will also shortly embark on a comprehensive refurbishment which will include an upgraded ground floor entrance hall as well as brand new showers and bike storage facilities.
We are also excited that the renowned and 'infamous' Randys Wing Bar has opened up a retail unit at 30 Minories which further bolsters the amenities for incoming tenants.
London still rules the roost
According to a recent article within CityAM, a large majority of worldwide investors are of the opinion that London still hosts the best talent pool for financial services in Europe. The City of London Corporation carried out a survey with global institutional investors and c. 90 of 101 other companies said that London talent rules the roost.
Furthermore, a survey of over 2,000 corporates within Europe concluded that London was the best City for business, certainly outperforming rivals such as Paris and Frankfurt.
The report comes up against a backdrop of feverish competition between European countries attempting to attract the best talent pool for financial businesses. It was suggested that French President, Emmanuel Macron, in particular, is trying his best to push Paris to the forefront.
In this sense, the recent surveys are extremely encouraging especially in light of the ongoing Brexit negotiations. Indeed, we have been buoyed by the recent financial office transactions within the City of London, for example, Deutsche Bank's commitment at 21 Moorfield Street and SMBCE's recent pre-let OF 160,00 sq ft at 100 Liverpool Street.
The number of bikes in the City of London flourishes
The Traffic in the City 2018 report from the City of London has confirmed that bikes are the method of choice for the City's rush hour commuters. There are now more bicycles on the streets of the Square Mile at peak times in the morning than there are cars, taxis, motorbikes, heavy goods vehicles and public service vehicles. The impact of 2016's cycle superhighways, alongside increased rail travel fares and traffic space re-allocations on City streets are the main reasons for this.
However, the cycle use growth rate has begun to plateau, therefore, more needs to be done. The City of London has been mulling over the full pedestrianisation of Bank Station junction during working hours since the scheme was trialled in June 2017 (area can be seen in the below diagram). Other than the safety improvement, the ban improved air quality and traffic congestion, albeit, any permanent closure wouldn't come into effect until 2020 at the earliest.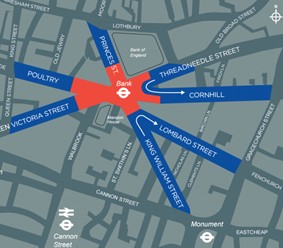 Area of pedestrianisation being considered
Commercial property owners within the London office market are extremely aware of the cycling revolution. Indeed the majority of Newton Perkins' instructions provide cycle rack spaces alongside showers and lockers. In conclusion, please search the listed properties on our website to see how we are encouraging even more people to get on the saddle.
Newton Perkins small office take-up - Update
A month ago (in our weekly news feed published on 6th February) we commented on a sudden surge in take-up amongst the small office occupier market.
We are delighted to confirm that this was no flash in the pan.
The last 5 weeks have been extremely busy for NP in this regard!
In addition to a large number of small deals (sub 2,000 sq ft) at the start of the year, we have now also facilitated the following:
10 New Street – Two floors Under Offer (to separate tenants)
63 Mark Lane – Under Offer
150 Fenchurch Street – A further floor Let
2a Eastcheap – Let
65 Leadenhall Street – A further floor Under Offer
48 Gracechurch Street – Under Offer
These results show NP's commitment to each and every instruction we take on, no matter what size. Needless to say we are equally active (and effective!) at the upper end of the market, having just exchanged on a 40,000 sq ft letting and with 11,000 sq ft at Plantation Place South being placed under offer this week – but those are stories for another day.
We very much look forward to continuing our outperformance of the market in the City Core.